Harrison West - Columbus Ohio
Harrison West is located just north of downtown Columbus and I-670, south of W 5th Ave between the Olentangy Freeway and Harrison Road. This historic neighborhood is similar to Victorian Village just east of Harrison West and in 2008, the neighborhood expanded to include all of Thurber Village to the south.
Harrison West is characterized by beautiful Victorian and Edwardian style homes. Two and three-story stick-built homes are the norm here rather than the brick homes you'll find just a few neighborhoods north.
Many of the older homes have been divided into rental apartments and some remain historical landmarks. Others have been restored to their original beauty. Several older homes have been torn down and replaced with new construction but similar style. In the 1980s, the conversion of a 16-acre former factory site was developed into single-family homes, flats and loss improving the neighborhood and making it a very desirable location to live. The neighborhood centers around commercial properties along Third Avenue which bisects the neighborhood. In 1976, a neighborhood Association was founded advocating for city services and community projects, maintaining the integrity and preservation of this historical architecture. Current projects include quality issues with Olentangy River, maintenance of the bike trail and new neighborhood parks.
Newest Harrison West Homes for Sale
September 28, 2023
More on Harrison West
This community bands together for the preservation and maintenance of many local parks and schools including the Battelle Teams Trees for Trimming campaign. Local groups of volunteers work with neighborhood projects volunteering to sweep streets, trim trees, and maintain parks, sidewalks and trails throughout the community. These groups identify street trees, trim up any plant material, and manage several parks in Harrison West.
There are actually seven parks within this community including the Wheeler dog park with water pumps, lighting and walking paths, the Olentangy recreational trail which runs from Worthington Hills Park South to Confluence Park in downtown Columbus, Harrison West park which features picnic tables and playgrounds, Harrison Park, one of the newest in the area, which features trails, park benches, playgrounds, art, River views and open space perfect for games. Goodale Park is one of the largest at 32 acres and one of the oldest parks in Columbus. It features numerous sports courts, fields, gazebos, playgrounds, picnic benches and lighted trails.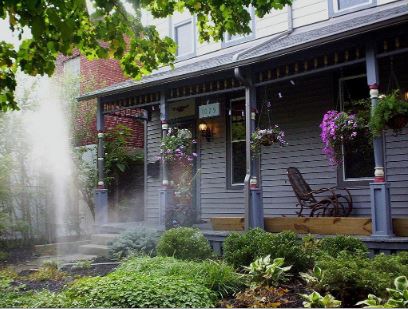 Harrison West features a variety of shops, restaurants and entertainment and if not in this community, in neighboring communities of the Arena District, Huntington Park, Short North and the Victorian Village.
In Harrison West, there are a variety of homes and condominiums for sale. Condos typically start at about $170,000 and single-family homes start about $300,000. Several condominiums may have views of Olentangy River within short walking distance or 2 to 3 blocks the Victorian Village from shops, markets and restaurants. Images by Columbusite
For more information on the homes, real estate and condos for sale in Harrison West or just more information on this historic neighborhood, browse the listings or call me anytime.
Contact a Harrison West Realtor®