German Village - Columbus' Most Popular Neighborhood
German village in the district of Columbus Ohio located just south of ice 71 and east of the river. It is one of the more affluent neighborhoods and a historical part of downtown. It aptly named due to a large number of German immigrants who once settled in this community in the early to the mid-19th century. the entire district was added to the National Register of Historic Places in 1974, becoming the largest privately funded preservation district on the list. Today it is one of the premier historic restorations in the world.
In German Village, no structure is higher than three stories and just five blocks south of this district are the spire of the St. Mary Church which stands 197 feet above the sidewalk and towers over everything around it. Most of the structures and buildings are created with orange masonry and many of the streets still boast brick pavers. The German Village offers a Bavarian atmosphere architecture dating back to the 1850s. Many of the residents find this community a treasure to nostalgic history with its architecture, events, and festivals. The neighborhood is a vibrant place to work and play and is built on the foundation of the community.
Search German Village by Price Range
Newest German Village Homes for Sale
September 28, 2023
Considering moving to the German Village district?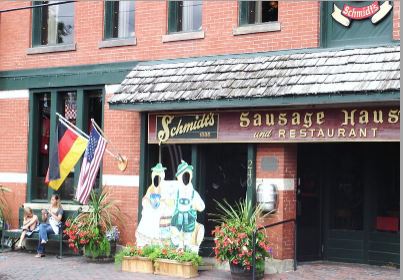 Many of the residential buildings are red brick homes with wrought iron fences along tree-lined, brick-paved streets. The average home is roughly $350,000 with an average listing price of about $420,000. German village also has a general commercial and retail district along Third Street with locally-owned restaurants, bookstores, and coffee shops, many of which cater to European imported retail and gourmet foods.
Many of the restaurants in this community has won a local award such as the best new restaurant in the city (Skillet), best burgers (Thurman Café), and Barcelona, one of the best Spanish cuisine in the area. Other local venues rated the German Village guesthouse as one of the best Columbus hotels by Citysearch.com.
Of course, in a place rich with German history we can't forget about Oktoberfest. This along leaning community Festival first place in the Columbus area in Schiller Park and now takes place at the Ohio State Fairgrounds and Expo Center. Smaller Oktoberfest events still go on throughout German village with community parties, neighborhood pub crawl, and the famous brewery District. Hosters Street is known around German village as one of the best places for breweries and pubs in Columbus.
If you are interested in learning more about German village or would like some information on the homes and real estate for sale in this part of Columbus Ohio, feel free to start your search here or call me anytime for more details and a personal tour of the current listings.
Contact a German Village Realtor®