Canal Winchester Ohio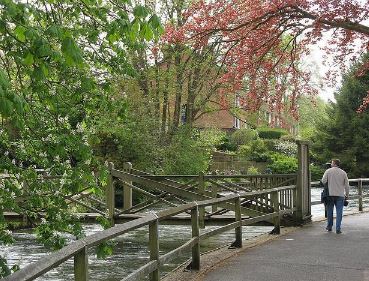 Welcome to Canal Winchester Ohio, a city in Fairfield and Franklin County just minutes from downtown Columbus. The population is about 7300 residents and was originally founded in 1828. The name comes from Reuben Dove and John Colman who wanted to sue the state for the Ohio and Erie Canal which came directly through their agricultural fields. The canal workmen convinced Dove that he would be better off creating a town since the area was midway between Columbus and Lancaster. So, in 1828, Dove and Colman settled the first plant for Winchester Ohio and dove name the village after his father's home of Winchester Virginia.
The village was renamed Canal Winchester in 1841 with the establishment of the first post office. There was already another village in Ohio with the name of Winchester and local legend talks about teenage boys pulling a prank on the city by pulling the post office across the street to Winchester. In 1866, Ohio's Secretary of State granite incorporation papers for the village of Canal Winchester.
Today, Canal Winchester is home to about 7300 residents who enjoy lots of festivals, a vibrant village, lots of historical landmarks in several notable residents. Canal Winchester host Labor Day festivals, Christmas in the village and their famous rib Festival in August. There are over 225 acres of public park lands and nearly 5 miles of paths and trails throughout Canal Winchester. There are numerous recreational programs as well including nine parks, a community pool, and numerous sports fields and playgrounds.
SCHOOLS
Canal Winchester hosted some school district with numerous elementary schools, middle schools and high schools. The high school offers many college preparations and AP classes and a new junior high school including the new wing of their high school and new elementary schools have all been to within the last 15 years.
Canal Winchester is located about 20 minutes from downtown Columbus either along the Winchester Parkway or Highway 33. There are numerous ways in and out of this town nestled Southeast of Columbus. There are numerous shopping centers, markets, banks and daily necessities as well as restaurants
REAL ESTATE
Real estate in this part of Ohio has an average listing price of about $198,000 with a median sales price of about $136,000. (Please check current listings and prices with your Canal Winchester real estate agent). There are numerous homes on the market at any given time with an average price per square foot of about $94. Home prices here range from about $85,000-$400,000 depending on size, condition and acreage. Being outside of downtown Columbus Canal Winchester features numerous country homes, luxury estates in large plots of land. It's ideal for building and a great location for commuting just 20 minutes to Columbus.
Newest Canal Winchester Real Estate Listings
December 8, 2023