Would It Be Better to Sell My Home or Rent It in 2023?
Posted by Donald Payne on Tuesday, April 4, 2023 at 6:16:01 PM
By Donald Payne / April 4, 2023
Comment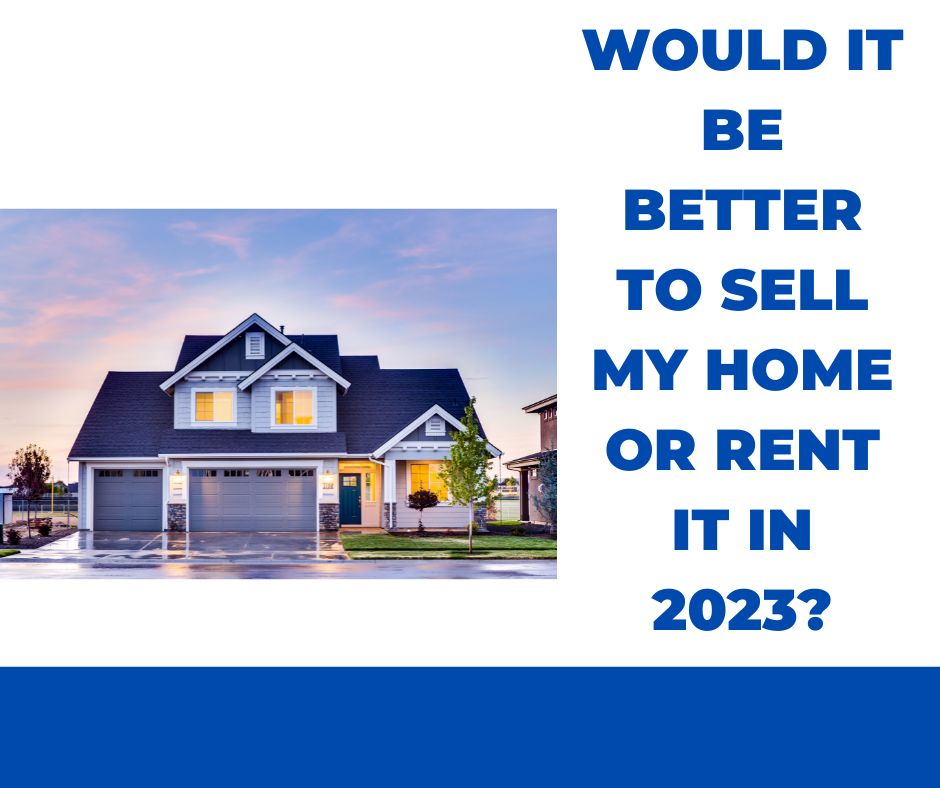 Some Columbus homeowners purchase a first or second home with the mindset of living in it for a few years and saving up money to purchase a dream Columbus home and turn it into a rental. But as home prices increase and mortgage rates have as well, some Columbus homeowners may be wondering if they should continue with their hopes of earning a somewhat passive income through renting or if they might be better off selling the home.
Here are Some Things to Consider About Each Option
Considerations for renting
The commitment to becoming a landlord
Though there is the benefit of generating income from rental profit, the job of being a landlord is no walk in the park. There are several things that a landlord is responsible for including finding a responsible tenant that will respect the property and pay rent on time. A property owner can employ the help of a property manager but this of course will cut into the amount of profit. In some cases, it could require all of the profit depending upon where the property is and how much rent it can fairly demand in relation to current rental market prices.
Housing laws in your location
Looking back over the rent moratoriums and housing issues through the pandemic many people learned that the relationship between landlord and tenant can become less than desirable. In some cases, there may be protections to keep a tenant unable to pay their rent on your property and cause a landlord unforeseen difficulty. Before getting excited about the possibility of earning rental income it is a good idea to make sure you know all of the legal responsibilities of Columbus landlords.
Having a conversation with a real estate attorney can help you to obtain knowledge of all of the binding responsibilities a landlord will have in Columbus. This will help you to determine if you are up to the task of holding to these legal obligations. You want to make sure you are well aware of your tenant's rights and your rights as well.
Giving market conditions a look
Just like the real estate market, the rental market can vary from location to location and even from neighborhood to neighborhood. You want to look at the current market factors of both renting properties and selling them in your neighborhood currently. You can discover these factors by talking with an experienced local real estate agent. They can help you to see what homes in your neighborhood are selling for and what they are renting for as well as the possibilities for your specific property. Looking over the potential for how much you could make selling your home versus the actual rental income you could make will help to drive your decision.
The conditions of your move
Some Columbus homeowners only need to move for a temporary amount of time due to needing to give some more caring attention to a family member that lives far away or temporarily taking on a position at their work in another location. If you only have to move away from your Columbus home for a temporary amount of time then renting out is probably the most beneficial choice. This way you do not have to pay the cost of selling your home and coming back to search for a new one. There is also the responsibility of taxes and the added hassle of whether you will purchase a home in the new location for a very short amount of time.
Considerations for selling
Your next home
Home prices have decreased in some areas but not everywhere. And in the most desirable areas, prices are remaining steady or continue to have a very gradual increase. This coupled with the highest mortgage rates that have been seen in over a decade can make it more difficult to purchase a home without the help of the equity you have earned in the one you currently live in. Selling your home enables you to take the equity you have gained and turn it into profit to use on the down payment from your next Columbus home to help make it more affordable.
How busy your current lifestyle is
Many of us have a lot on our plates when it comes to work and life responsibilities. If you struggle to find time to get all the things done becoming a landlord and putting even more work on your plate may not be the best option for you at this time. You may find that at a different point in life you have the ability to oversee owning multiple properties. Even with the help of a property manager, there are still things you will have to do on your own to uphold your legal responsibilities for owning a rental property. You want to make sure that you have room in your life to be up to the task.
If you live in the Columbus area and have a home that you are considering selling we are happy to talk over the options with you. For more information on selling your Columbus area home please contact us anytime.