What to Know About Companies that Buy Houses
Posted by Donald Payne on Monday, September 13, 2021 at 11:29 AM
By Donald Payne / September 13, 2021
Comment
Most often when someone is ready to sell their home the traditional and most used method is to prepare the house to be appealing to the widest range of buyers and list it for sale. This is done in the hope that you can take advantage of today's seller's market and find buyers that will compete for a winning offer on your home to make the highest profit.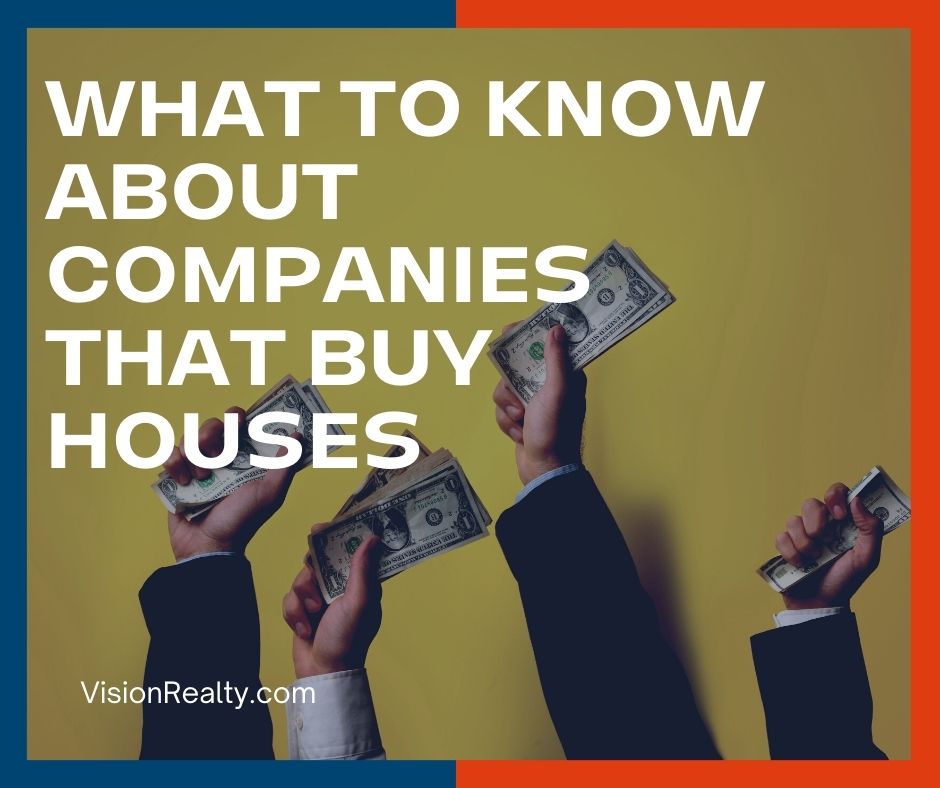 To some homeowners, the traditional route may not be appealing. In special circumstances, it could be an unattainable way of selling their home. There are alternatives to the traditional method of selling a home and in some cases, homeowners are intrigued by selling their home to a home buying company.
Not all home buying companies are the same, there are different types of companies that are interested in buying your home, and most often they will offer cash and the promise of a quick closing on the sale. Here's some information on the most common types of home buying companies and what you might expect if you do business with them.
Franchise cash buyers
There's a small number of companies that are national that you might recognize when the term cash homebuying comes to mind. Many of these companies operate as separate franchises in your area. This will mean that the person you work with on a local level for your property should have some local knowledge of the real estate market where you live. Some of these companies include We Buy Ugly Houses and HomeVestors.
The focus of these companies is to purchase homes that are in a neglected or tired state that the homeowner is unable to fix up for a traditional sale. In many cases, the franchise owner is looking to work with a local contractor to flip the home into a beautiful property or keep it for rental income. The franchise owner then pays a fee or portion of the profits to the larger national parent as a means of being able to use brand affiliation and getting additional help where needed.
iBuyers
In the last few recent years, companies known as high buyers have emerged that have become more present in purchasing homes for cash quickly. Companies such as offer pad, open door, redfin now, and Zillow offers are the most known iBuyer companies.
These types of home buying companies operate in a growing number of markets across the country where they purchase homes that need a very minimal amount of work to be ready to return to the traditional real estate market. Their focus is to turn a property around quickly and sell it for a higher price. These companies often pay a higher price than franchise cash buyers but operate as a single company instead of a local franchise.
Currently, this type of cash home buyer is receiving a lot of coverage in the news but is a very small portion of the homebuyer market. Redfin now reports that just 0.3% of the homes sold in the fourth quarter of 2020 were purchased by the four major national iBuyer companies.
House flippers
You have probably seen a show on Home and Garden Television, if you have ever watched it, highlighting the house flipping business. This is the process where an investor buys a rundown property or one that is going up for foreclosure or auction to make it move-in ready and sell it for a profit after remodeling it to appeal to today's buyers.
Most house flippers are hoping to take a home from its current state to its best state in six months or under a year to cut down on expenses they incur while owning the property. There are some larger franchise companies that look to flip houses, but many house flippers are small local independent companies that have the ability to offer cash on a home.
Buy and hold investors
This type of investor will purchase a property and keep it to rent out. In most scenarios, the investor aims to buy a house that needs a little bit of work to avoid paying the highest price for a property and will give it some light renovation before leasing it out.
About 73% of rental properties across the country are owned by individuals that own just one or two, or a small handful of rental properties as a means of extra passive income. Many times this type of investor will have cash on hand, but could also finance the purchase or finance part of the purchase with a large sum of money and finance the small bit of money left for the offer. This can mean a longer closing time for the home sale.
Should do you sell to a cash buying company?
The best advice to selling a home to a cash buyer is to be very knowledgeable about what you are getting yourself into and very cautious at the same time. First off, it is always good to know that with a cash offer you will most often receive an offer below market value if the home is in a state of disrepair as well as a much lower offer than what you may receive on the traditional market selling to a regular buyer using a highly trusted real estate professional to help you sell your home.
Many times cash buyers will note that you do not need your own real estate agent representation to sell your home to them for cash, but it is always a good idea to have a respected local expert real estate agent on your side or a real estate lawyer looking out for your best interests.
For more information on homes for sale in Columbus and surrounding areas please contact us anytime.