What Should Columbus Homeowners Set Aside for Home Maintenence Costs?
Posted by Donald Payne on Wednesday, September 20, 2023 at 4:29:02 PM
By Donald Payne / September 20, 2023
Comment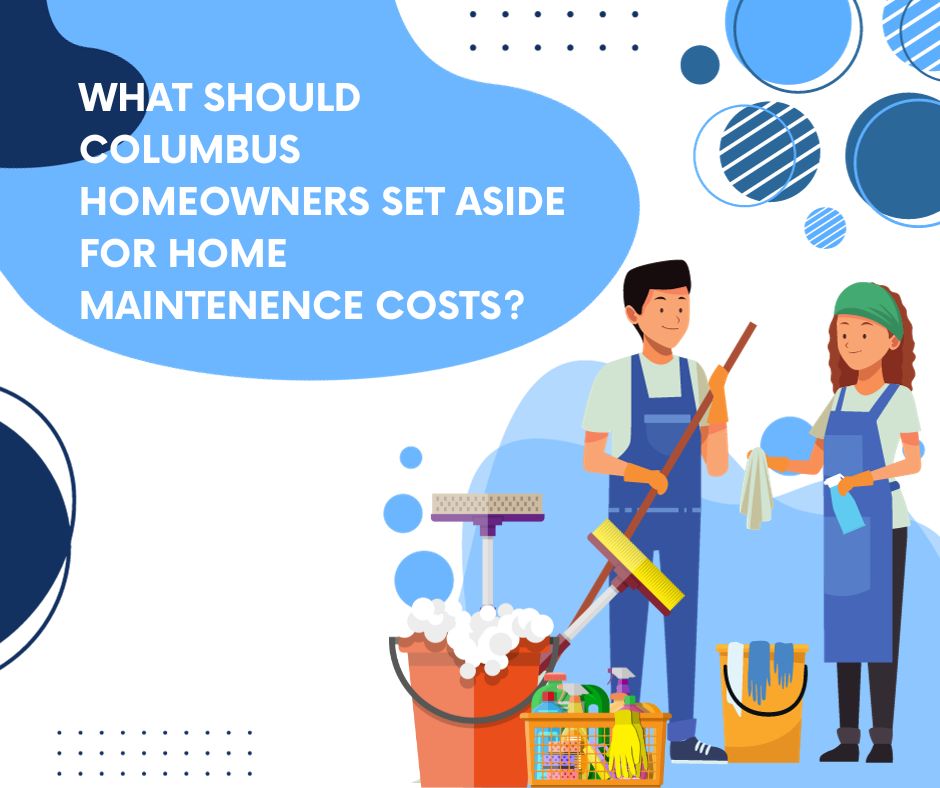 When you own your own home in Columbus you are now responsible for all of the maintenance and upkeep. Switching from a rental property to home ownership can catch some new homeowners off-guard with the price of maintenance tasks and upkeep that many homeowners may not have budgeted for when purchasing their homes.
Whether you currently own a home or are considering buying one in the future it is a good idea to have a strategy for a budget that can help you to afford needed maintenance tasks both routine and larger unexpected emergencies. It is also good to note that the more proactive you are with your home maintenance the higher your likelihood is of preventing larger repair tasks. Having money on hand to be able to care for your home is important. Read on to find some tips that Columbus homeowners can take for setting aside enough money to cover both routine and unforeseen repairs in their homes.
A list of common routine maintenance tasks and their estimated cost
The exact routine maintenance tasks that your Columbus home will require depend upon the specific attributes of the property itself. But to get a general idea of a healthy budgeting strategy for the average Columbus home here is a list of the common maintenance tasks a home could require and what you should expect to pay.
HVAC
The air system in a home needs routine checks and cleaning as well as filter changes. The filter in the HVAC system filter of any home should be replaced at least four times a year. A home may need more frequent changes if there is something in the atmosphere causing filters to work harder. This could be something like a wildfire or even a shedding pet. Changing a filter is something you can easily do on your own and the cost is between two dollars to $40 depending on the filtration level and the precise filter needed.
Twice a year you also want to have a professional come and check out your system to make sure that it is running properly, it is clean, and nothing needs to be replaced or fixed. Having a professional look at your system should happen when there are major shifts in temperature such as summer into fall and winter into spring. Each inspection could cost anywhere from one to $400 or more depending upon if there are repairs needed.
Landscaping
To keep your yard in check it will need regular attention. The most routine is possibly lawnmowing. There is also weeding, tree and bush trimming, fertilizing, and general seasonal cleanup such as leaf raking. The cost of these tasks depends upon whether you will hire someone to do the work for you or do it yourself. There is no blanket figure when it comes to landscaping. It is best to consider the size of the yard that the property is on. Hiring someone to take care of your landscaping costs as little as $30 a month for basic mowing of a small yard to over $300 a month for full-service upkeep.
Gutter Cleaning
It is a good idea to make sure that debris is not collecting in your gutters. A backed-up gutter can cause several issues especially when it comes to your roofing. You can opt to clean your gutters yourself which is pretty much free unless you need to purchase equipment like a bucket, a sturdy ladder, and a pair of gloves. But it will cost you some time out of your day. If you are unable to clean the gutters on your own it could be around $100 or more per cleaning to hire help.
Carpet/floor cleaning
It is always best to make sure that you are vacuuming or sweeping your floors depending upon the floor surface that you have a couple of times a week. For hard surface floors, you want to try and mop 2 to 4 times a month. But beyond this, you also want to have deep cleaning performed on your floors. This task is always best done by a professional floor cleaner to ensure that too much water and soap are not used. Depending on how many rooms you need to deep clean and the type of deep cleaning this can cost anywhere from $100-$300 per room.
Grout sealing and natural stone cleaning
If you have tiles or natural stone in your home these items need cleaning and sealing on a regular basis. It is suggested that to keep the surfaces in your home and top shape they should be done once a year. You can rent the equipment to clean and seal grout or natural stone on your own but it is a task that needs a lot of knowledge and attention. If you are willing to learn it can be done. If you would prefer her not to take the time and are hesitant to make a mistake you could also hire someone to do these tasks for you. Depending upon your strategy and how much tile or natural stone you have this could be anywhere from a couple hundred dollars to just over $1000.
There are several tasks that each home is going to need in order to be properly cared for. It is always good to write out a list of tasks you believe your home will need and to research estimates on each task. But if you are trying to get a general idea without the ability to retain fine details it is always good to put aside some money each month for routine and unexpected maintenance of your home.
Some experts would advise that you put aside a percentage of your home's overall worth. Other experts would say that if you are putting anywhere between $400 and $1000 a month depending on home size into a savings account, it should be good coverage for routine maintenance.
It is always a great game plan when purchasing a Columbus home to have the cost of routine maintenance and repairs on your mind as part of your home budget. If you are currently looking for a home in Columbus I am happy to help. I am highly knowledgeable in Columbus real estate and I'm dedicated to finding you a home you love with in your affordable budget.