Waiting to Buy a Dayton Home Could Cost a Small Fortune Later
Posted by Donald Payne on Monday, May 31, 2021 at 11:26 AM
By Donald Payne / May 31, 2021
Comment
There are several homebuyers across the country wondering if they should make the jump to purchase a home right now or wait until there are more homes for sale and things calm down a bit. Some of these potential home buyers are current renters that have a strong desire to become a homeowner and take advantage of still low mortgage interest rates but are just not completely sure if buying a home in a hot seller's market makes sense. Other buyers are current homeowners that have realized their current home no longer meets their current needs, but wonder if they should make due for just a while longer.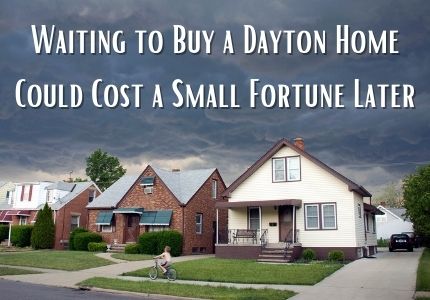 Where are Home Prices Expected to Go in the Future?
Averaging out the most recent projections from all of the large real estate market experts tells us that home prices are expected to increase by an average of about 7.7% over the next year. So if we were to look at a home that is worth $325,000 today:
A buyer making a 10% down payment on this home right now would put down $32,500 on the home and borrow $292,500 on a mortgage loan to cover the difference. This same house with the estimated rate of value increase over the next year would be $350,025 at fair market value and a 10% down payment would then cost $35,003 and the mortgage balance would be $315,022.
Waiting a year in hopes that the seller's market will cool down could cost an additional $2,503 out of pocket for a down payment and lead to borrowing an extra $22,523 on a mortgage.
Where are Mortgage Rates Expected to Be a Year in the Future?
Though mortgage rates have risen from the unbelievably low ones offered in 2020, they are still very low as compared to 2019 and the previous. Today mortgage rates are hovering around the 3% mark. Most financial experts expect this rate to increase as the economy continues to recover across the nation. Of course, rate increases mean the overall cost of purchasing a home will increase for a borrower.
First Quarter Mortgage Rate Forecasts for 2022:
Freddie Mac-3.5%
Fannie Mae- 3.5%
National Association of Realtors- 3.5%
Mortgage Bankers Association-3.9%
Using the same example for a $325,000 home from above, at today's current rate of 3% the monthly payment would work out to be $1,233. Next year when the home is worth $350,025 the mortgage rate may be around 3.6% based on forecasts, the monthly payment will increase to $1,432. This is an increase of just under $200 a month for the life of the loan or an extra $2,388 a year and $71,640 more over the entire life of the loan.
When considering if you should purchase a home in Dayton now or wait it out a little while, financially speaking the signs point to beginning your home search as soon as possible so that you can save money or afford to purchase more home.
For more information on homes for sale in Dayton Ohio and surrounding areas please contact us at any time.