Turn a Small Columbus Bathroom Into a Luxurious Spa Retreat
Posted by Donald Payne on Thursday, November 2, 2023 at 5:41 PM
By Donald Payne / November 2, 2023
Comment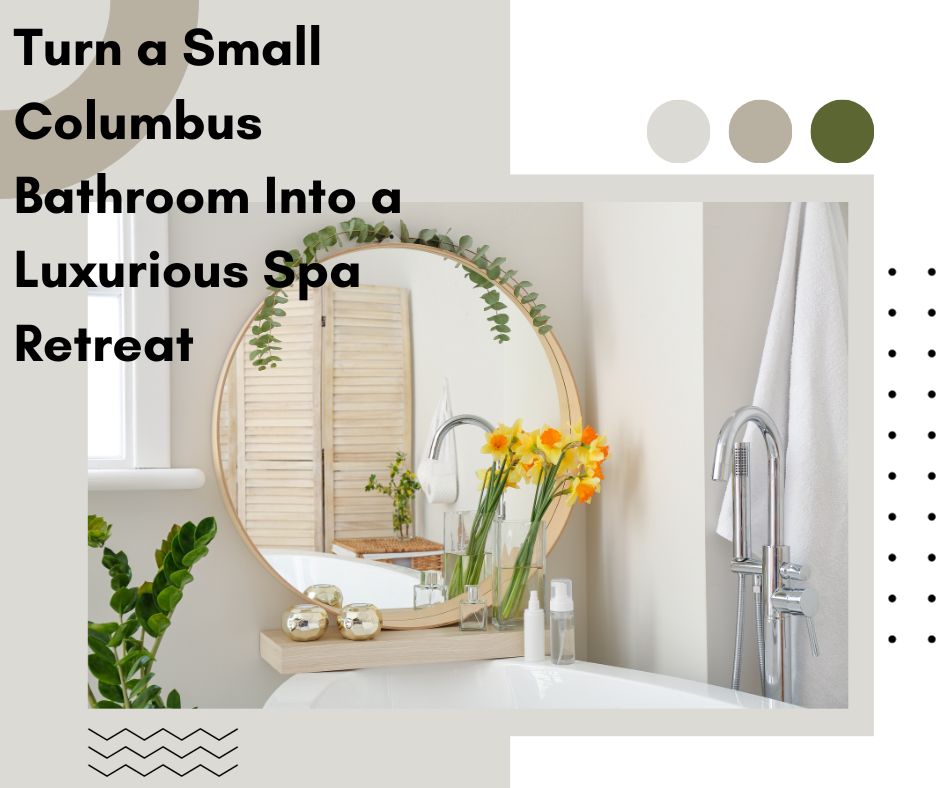 Two of the most important spaces to have remodeled on Columbus homeowner's wish lists are the kitchen and the bathroom. If your home has a small bathroom you have probably considered the possibility of making it larger, but what if the structure of your home, or the floorplan layout just won't work to increase the size of your bathroom? What can you do to make a small bathroom in your Columbus home feel luxurious?
Ways to Create Space and Upgrade a Small Bathroom
Continuous Space
Spaces can seem larger when you continue certain finishes on different surfaces. For example instead of using new flooring in separate areas. Using all one kind of flooring gives the illusion of more space. If you were to pick a tile for the floor of the bathroom, for example, and continue that tile into the shower floor it would make the floor space seem larger. In addition, choosing a clear glass shower door will keep the sightline going into the shower and also create an illusion of space.
Keeping things continuous instead of breaking them up with separation lines makes the space feel like one large space instead of smaller broken ones.
Change for Sliding Doors
Traditional doors need space to swing, changing them out for sliding doors like a pocket door helps to create usable floor space in your bathroom. You can now place items on the wall or floor where the door once needed to swing.
If you can't swap put the door use the door as verticle storage space. The back of a door can be used with special organizers to easily store items. This helps to take some of the clutter off the bathroom counter and instantly makes the area feel not only cleaner but bigger.
Let Go of Clutter
Just because you can fit a lot of things in a small space doesn't mean you always should, The more things you put into a space the smaller it seems. It's like sticking items in a box. With every item you place in the box, you now have less space for other things. In a small bathroom try to stick to the bare essentials. Keep the decorations simple and few. The good thing about doing this, buying less, is you can afford to purchase higher quality luxury items that will help to make the space feel larger and more luxurious.
More Light
If there is a way to bring more light into your small space it will work wonders to make the space feel bigger. The darker a room the smaller it feels. Sometimes this can be as simple as opting for a brighter light bulb, just make sure that your light fixture can safely handle it.
Get Rid of Old Fixtures
If the fixtures in your bathroom, like the faucets and showerheads, are woefully outdated purchasing new ones will go a long way to give the space an instant style boost. You would be surprised by the large impact a small and simple change can make in your space. You can also switch out or add new door handles and drawer pulls to make the space feel up-to-date and more luxurious. It is an easy way to bring a new style to an area without changing the square footage.
Radiant Heat
If you have the budget to redo the flooring, consider the option of radiant heat installed in the flooring as well. This will eliminate the space that a heating unit would take up like a floor vent or radiator. Radiant heat is also great in a small space because it can easily and evenly distribute heat through the room.
There are many ways that you can make a small space, even a small bathroom feel functional, larger, and luxurious. If you are selling your home these tricks can help you to showcase a small bathroom and show its potential.
Whether you are buying or selling a Columbus home please contact me. I am experienced with all Columbus real estate and am here to help with all of your needs.