Tips for Purchasing Vacant Land
Posted by Donald Payne on Wednesday, November 9, 2022 at 7:51:28 PM
By Donald Payne / November 9, 2022
Comment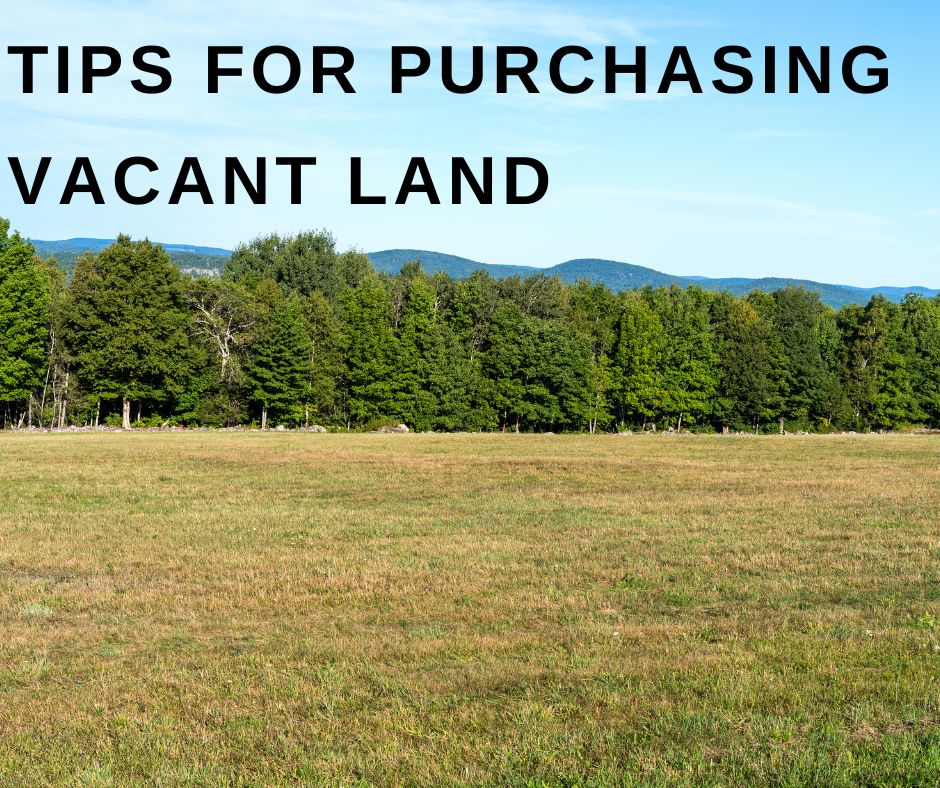 Some buyers may be in a time of their life where they want to purchase their dream home property that they hope to settle into and never move again. For some buyers, it may be incredibly difficult to find a house that looks exactly like the one they want to never move again.
For this reason, some buyers flip to the possibility of purchasing a piece of land to build a home exactly the way they want it.
Before jumping into a land purchase it is good to be aware that there could be more surprises with this type of purchase than with purchasing an actual home.
Here are some tips when it comes to buying vacant land
Make sure to work with your real estate agent
It may not seem like you need the help of a real estate agent to purchase land as there is no home on the property. But working with a real estate professional helps you to navigate the fine details of the actual purchase like the negotiation process and the due diligence before closing.
Finances in order
As with any major life purchase, it is important to make sure that you are able to afford the land easily and that it fits into your plans for using it. It is also good to know that it is not common for land purchases to be made in cash. Often mortgage lenders are less inclined to provide help in the purchase of undeveloped land.
Considering the homes and real estate in the surrounding area
In purchasing a piece of land with your dream home in mind you want to make sure that your dream home will fit into the surrounding landscape. You don't want to build a large custom home that feels out of place with the other properties in the area. This could result in your home coming in at a lesser fair market value.
Make sure to think of utilities and road access
You want to purchase land that will not be a struggle to get running water and electricity to when you have a home on it. You want to make sure that it is not going to cost your entire budget to get utilities and access to your land. This is often something that is overlooked when people purchase land in hopes to build their dream home.
Don't forget environmental tests
Purchasing land and getting an environmental test is much like a home inspection or background research on a house. You want to make sure you know that the land is healthy and good for development in the way that you plan.
Environmental tests can give insight into the condition of the soil to know if it is safe for a home to be built there They can also help to assess if any areas of the land are prone to flooding. The results of the tests should be looked at by a professional.
Make Sure to Get a Land Survey
It is a good idea to have a surveyor look over the property to find the legally zoned boundaries. This is very important if you are purchasing land in a residential neighborhood that has been vacant for years. You want to know exactly what you will legally own in your purchase and not accidentally encroach on someone else's property.
Don't Assume Land Can Easily be Rezoned
Local governments have zones, codes, and ordinances that limit what can be done to develop any property. You want to make sure you know the zoning rules and codes for the land you are interested in, and don't assume it will be easy to ask for rezoning if your plans are outside of the current restrictions for the land.
It is better to keep your building plans within the current restrictions than to go through the process of rezoning the property. In some cases it is possible, but it can be time-consuming and cost more money than you budgeted for.
Purchasing vacant land can be a beneficial way to have the dream home you have always wanted. You just want to make sure you have the right expert help to give you the best insight on making a smart purchase.
For more information on real estate in Columbus and surrounding areas, please contact us any time.