The Most Common Bidding War Mistakes
Posted by Donald Payne on Sunday, June 26, 2022 at 10:44 AM
By Donald Payne / June 26, 2022
Comment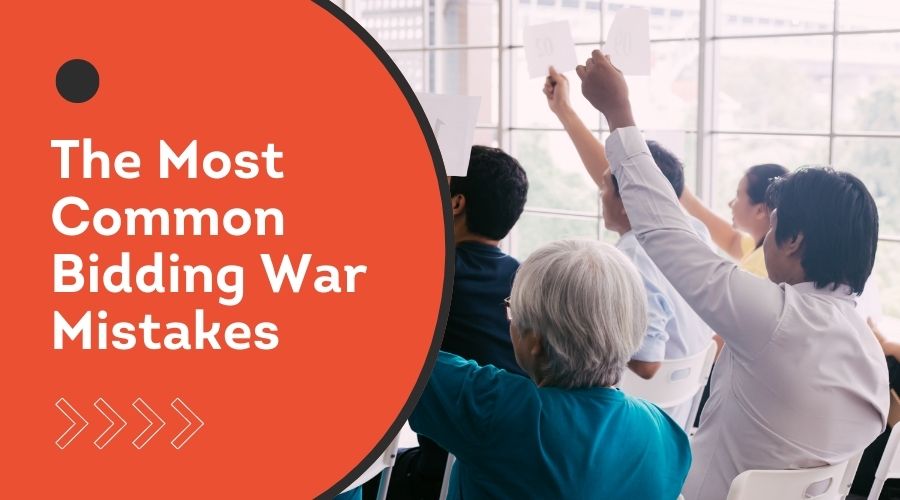 With the continued low inventory of homes for sale and more buyers looking for homes, it is almost 100% certain that every buyer will come into some sort of competition with multiple offers. In some cases, this can mean a bidding war amongst buyers trying to offer something better in hopes of being the chosen buyer.
But in the midst of those bidding wars, some buyers feel pressure to win out and be able to purchase the home. In this heat and pressure, there are some common mistakes being made.
Here are some of the most common bidding war mistakes made in today's market and some better alternative approaches
Putting in a bid without any contingencies
Some buyers, in an attempt to make their bid look the most attractive, offer to waive all contingencies with their purchase. This can include waving a home inspection as well as any other ability to back out of their offer if anything concerning is found.
Instead of making a very risky offer and locking yourself in with no way of getting out, make compromises in other ways. Try to offer a shorter time in escrow if possible. It is never a good idea to waive a right to inspection in hopes of making your offer look better unless you are a highly skilled real estate investor with plenty of knowledge under your belt.
Put an offer in with too many requests
It is not the best idea to go shopping for homes before your home has sold and request that your offer be contingent upon the sale of a current home.
In most scenarios, a homeowner is going to pick the offer that has the fewest uncertainties. If a seller sees that you are offering the highest amount of money but it is hinging upon the sale of your home, they may end up turning you down anyway.
Instead have your financing secure with a preapproval from a lender. This way you know how much you can afford and be able to keep your bid separate from the current selling status of your home. In most cases during a seller's market, it is better to sell and then find temporary housing while shopping for a home.
Assume you will have another round to put in a better offer
When preparing for a bidding war, some buyers assume that this means they will go several rounds of putting in their next best offer until the favorite one is chosen. In today's bidding wars several buyers find themselves losing out on a second chance.
Instead of sitting back if you find yourself in a multiple bid situation, it is best to always give your most promising offer upfront. It is crucial to have a skilled buyer's agent that has dealt with current bidding wars to advise you on your best strategy.
Including the line "best and final offer"
There has been some real estate shows that use this terminology and mistakenly some buyers have opted to use the same thing. You do not want to use this terminology because it can instantly turn a seller off of the listing broker may not take your offer seriously if you counter offer after making the statement.
Even if you have put your top budget in your first offer never assume that details in the offer cannot be adjusted such as the closing date or possibly being asked to remove a contingency by the seller. There may be smaller details you are able to adjust. You always want to keep yourself open and flexible as a buyer when you are purchasing in a seller's market.
Bidding all of your money away
Some wars are so competitive that homes are selling for above the listing price. This has led some buyers to pay way more for homes than they should. It's never a good idea to put every free dollar you have into a home purchase. It is always good to make sure you have your rainy-day fund intact especially if an emergency repair pops up in this new home.
It is always good to retain 10 to 40% of the purchase price in savings to make sure that you have a good emergency fund for whatever may come your way. If a home is requiring you to spend every last cent you have it may not be the best purchase.
For more information on purchasing a home in Columbus Ohio and surrounding areas contact us anytime.
More tips for Home Buyers