The Costs of Remodeling a Kitchen
Posted by Donald Payne on Monday, October 19, 2020 at 9:38 AM
By Donald Payne / October 19, 2020
Comment
Kitchens are highly important when it comes to buying and selling homes. Those looking to buy want to ensure they are buying a home with a kitchen they will be happy spending much of their time at home in, one that is up to date and easily functional for their lifestyle. What this means for buyers is that a well-cared-for kitchen will help to sell their home and for a better price.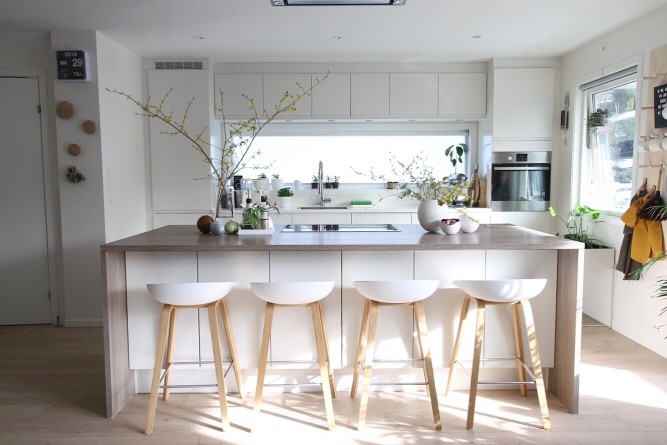 If you are considering doing a major overhaul or just a little facelift it is good to be prepared for what it will cost.
According to home improvement resource company HomeAdvisor, the national averages for a kitchen remodel costs are as follows:
Labor: 15-20%
Cabinets: 29%
Appliances and Ventilation: 14%
Countertops: 10%
Lighting: 5% Floors: 7%
Fixtures and Plumbing:4%
Additional Finishes and Cushion for Extra Costs: 15-20%
HomeAdvisor reports that the national average overall cost for a total (or major) kitchen renovation is $25,291. Lower end remodels start around $4,000 and high-end fancy remodels can cost about $60,000 or more. The wide range of numbers is a result in the innumerable possibilities on what and how you can remodel a kitchen. Some kitchen remodels are just a replacement of counters, for example.
Full-Scale Kitchen Remodel
An entire kitchen overhaul renovation is going to cost a significant amount of money, especially if you are gutting the entire kitchen and rearranging the floor plan. Usually, an entire kitchen makeover includes:
Ripping out old cabinets and purchasing new ones
Replacing the counters
Re-doing the backsplash
Moving or Upgrading and Purchasing New Sink and Plumbing Fixtures
New Lighting
New Flooring
New Appliances
Possibly removing or adding walls and painting them
Possibly new windows
Possibly new exterior doors
Possibly Switching to Smart Technology
A major kitchen overhaul is best done by a professional licensed contractor. A general contractor will be able to hire out subcontractors or have subcontractors working for them, these are people like plumbers and tilers. Labor will cost a significant amount of the budget in an overhaul.
Hiring a designer to ensure the kitchen turns out exactly how you want it while still being cohesive with the rest of the home and having great functionality is also a very good idea if you plan to gut the kitchen and start from scratch. This of course will add more money to the budget though.
When doing a large kitchen project it is best to not cut corners and make sure skilled labor is hired to do everything right, so you don't end up spending more to fix it.
Mid-Range Remodels
A midscale remodel will keep the layout the same or almost the same to avoid the costly work of buying all-new cabinets or re-working the plumbing. In a midscale renovation you might focus on:
New Counters
Some New Cabinets
New Backsplash
Maybe a New Sink and Faucet Flooring
Some New Appliances
New Wall Color
To save money some kitchens can be updated and transformed with a partial or midscale renovation. If your kitchen is in good working condition, but could use an updated facelift keeping some items, but giving them a new look is a smart choice.
Low-Scale Remodel
Lower end remodels usually consist of just giving one or two major areas of the kitchen an update or facelift to bring new life into the kitchen and change the look without having to spend a huge sum of money. Smaller remodels can include: Changing the backsplash
Painting the walls
Getting all or some new appliances
Just changing the counters
Only changing out the cabinet doors and keeping the cabinets
Updating a Kitchen Adds Value to Your Home
Big or small, updating your kitchen in any way is going to bring more value to the home and help it to sell faster.
For more information on selling your home in Columbus and surrounding areas please contact us any time.
Related Content:
What is your home currently worth?