Simple Ways to Keep Your Columbus Home Secure
Posted by Donald Payne on Wednesday, February 22, 2023 at 5:56:35 PM
By Donald Payne / February 22, 2023
Comment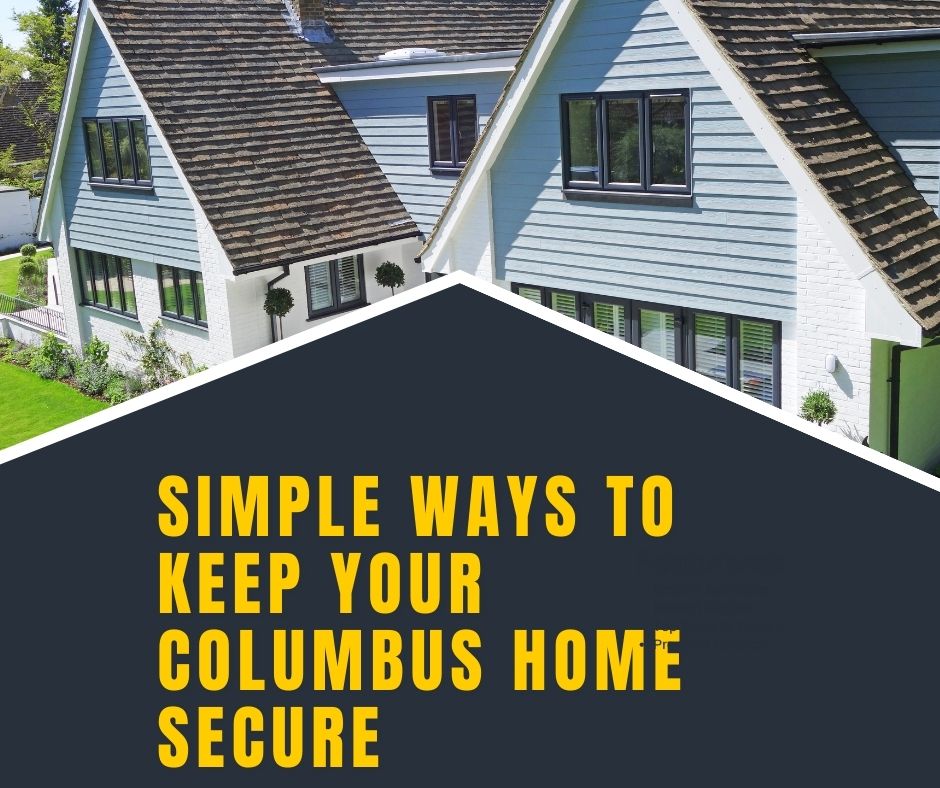 For Americans, one of the most important aspects or assets in our life is our home and everything that is residing within it. Feeling safe within our most treasured asset our homes is high on top of priority lists for many of us. The ability to go home and feel safe and secure is an important one to Columbus homeowners and everyone else in the country.
When you purchase a home in Columbus, it comes with some basic security measures such as locking windows and doors and exterior lights that help make it more difficult for someone that doesn't belong inside the home to get it. But if for some reason an unwelcome visitor does try to make their way in, there are some additional simple measures thqt Columbus homeowners can take.
Simple ways Columbus homeowners can boost the security of their homes
Placing security bars in windows and sliding doors
It is always a smart idea to check windows periodically to ensure that they are all locked. This is especially helpful in the warmer months when it may be possible for someone in the home to open the window. In addition to having the locks properly in place on your windows, you want to place a security bar within the frame of the window and even in a sliding door for added protection.
Extra measures on basement windows
Often homes are accessed through a basement window as they are easy to reach. Many times these basement windows are also hidden by items like landscaping making it easier to access in broad daylight. It is a good idea to make sure that landscaping is clear and trimmed near windows so that it does not become an easy hiding spot for unwanted guests. To secure basement windows even further than making sure they are locked or that there is a bar within them you can opt for sturdier windows that are harder to break out or enter.
Don't give burglars any help
Burglars especially those that have done it before know how to make the home work for them in accomplishing their task. Make sure that items like tools and ladders that could help a burglar access your home are locked up and stored away. Additionally, you want to try and keep items like luggage and bags out of sight because they can use these to load up more items and carry them out quickly and easily. Don't store car keys out in the open where they are easy to find because it can mean any extra way of getting into your car and quickly running off with the items inside your home and your car as well.
Consider smart devices
Smart devices like smart locks and home security systems are a great way to help detour burglars from entering your home. When someone sees that they are already on camera they will quickly move on to their next victim. Being on camera is a quick and easy means of proof should they be caught.
Trust in neighbors if possible or hire house sitters
If you are going to be gone for a significant amount of time it is a good idea to have someone come in and check on your home to help make it look like it is occupied and that there is not enough time to access the home and go through it. Even if it is just asking a family member to come over a couple of times while you are away this can be extremely helpful in making the home look like it has not been abandoned for a long time.
If you feel you can trust your neighbors it can also be a good idea to let them know when you are taking a trip and ask them to look out for your home. If you live in a colder climate it is a good idea to make sure your mail is picked up and items like your walkway are shoveled from snow to make it look like the home is not empty.
Be aware of when your mail packages will arrive
Sitting packages on a doorstep are a homing beacon for theft. If you know that you will have packages delivered try to make arrangements to get the packages off of the front doorstep as quickly as possible. You could even do something like have your packages sent to an Amazon locker or mailbox locker instead of your front door. It is also a good idea to remove all address labels from your cardboard boxes and keep the recycled cardboard out of sight.
Consider a garage door upgrade
If your garage door is older you may want to make sure that it is secure as it is one of the most interesting points of entry. A great feature for garage doors is a Wi-Fi-connected opener that will alert you every time your garage door has been opened. If you opt for Amazon garage delivery you can get a conversion kit that will give you a notification every time you are receiving a delivery from Amazon to ensure security with your packages.
For more information on real estate in Columbus Ohio including available real estate and help selling your Columbus home please contact us any time.