Should You Use Peel and Stick Tile to Save Money on Renovations?
Posted by Donald Payne on Monday, April 11, 2022 at 12:57 PM
By Donald Payne / April 11, 2022
Comment
With the rise in prices for many home makeover materials using peel and stick tile has become a more popular way of giving flooring, backsplashes, and shower walls an uplift. They come at a lower price point than traditional tiles and are surprisingly quick to install because they do not require special tools.
For some projects peel and stick tile can be a very good alternative and maybe even a smarter choice than installing brand-new tile. But in some scenarios, it may not be the best choice.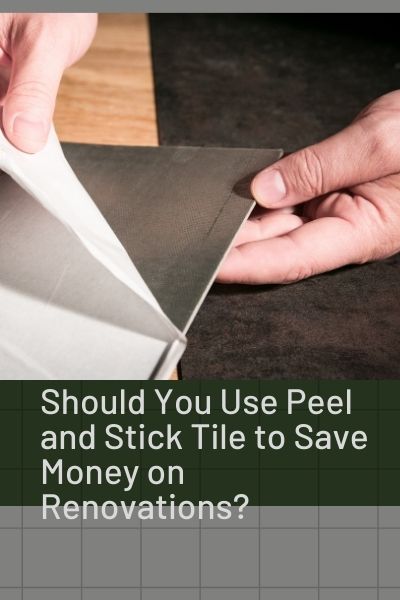 Here are some things to consider when thinking about using peel and stick tile for your home renovations.
The Benefits of Using Peel and Stick Tile
It Comes in a Wide Range of Designs and Materials
Peel and stick tile has become more widely used and as such there are many more products available. You can find peel and stick tiles that look just like the most popular and trendy designed versions of actual tiles including marble, glass, mosaic, subway, and wood. You can also find them in different finishes including matte, pearlescent, and metallic. You can get them in varying thicknesses and textures. When it comes to peel and stick tile the decision of which one is your favorite is just as hard as choosing the real thing.
It is Possible to Install All on Your Own
With the right homework and knowledge, you could easily make peel and stick tile a DIY project. You will need a tape measure and a box cutter or scissors but beyond that installation is pretty simple. The most important part of peel and stick tile is properly preparing the surface. You want to make sure that where you apply it is extremely clean and the surface is level to allow the tile to adhere as well as it possibly can.
You want to make sure that the specific peel and stick tile you picked out is able to adhere to the surface that you want it to. You want to be careful as some peel and stick tiles are not meant to be installed over concrete, existing tile, or plywood while other types of peel and stick tile have no problem doing so.
It's Removable
Unlike real tiles, peel and stick tiles can more easily be removed and thrown away. This makes it a good option for making over a rented home or an apartment.
Drawbacks of Using Peel and Stick Tile
Peel and stick tile can be a good means of making over a very ugly space on a budget and being able to find a material that is in stock, but there are a few things to consider before using it. Those include the fact that it does not look like the actual thing. It can be troublesome to adhere if you do not closely read the instructions. Glue can get messy. And it does not hold up to the same life that actual tile does.
How Much Does Peel and Stick Tile Cost?
The cost of peel and stick tile will depend upon the quality and style of peel and stick tile that you choose. Most of the time peel and stick tile is priced by the square foot so it can be sold by the piece or the case. In some areas 200 ft.² of peel and stick tile could cost you as little as $100 but could be as much as $900 depending upon the quality.
There are many homeowners seeking to makeover their homes right now and trying to find creative budget-friendly ways to be able to do so with supply shortages and inflation. Before you start any project, if you plan to sell your home before remodeling again, it is a good idea to consult a real estate professional on whether it is worth doing the job or leaving it as it is.
For more information on purchasing or selling a home in Columbus Ohio please contact us anytime.
More Resources for Homeowners: