Should You Redo Your Driveway Before Selling Your Columbus Home?
Posted by Donald Payne on Wednesday, March 22, 2023 at 3:58:19 PM
By Donald Payne / March 22, 2023
Comment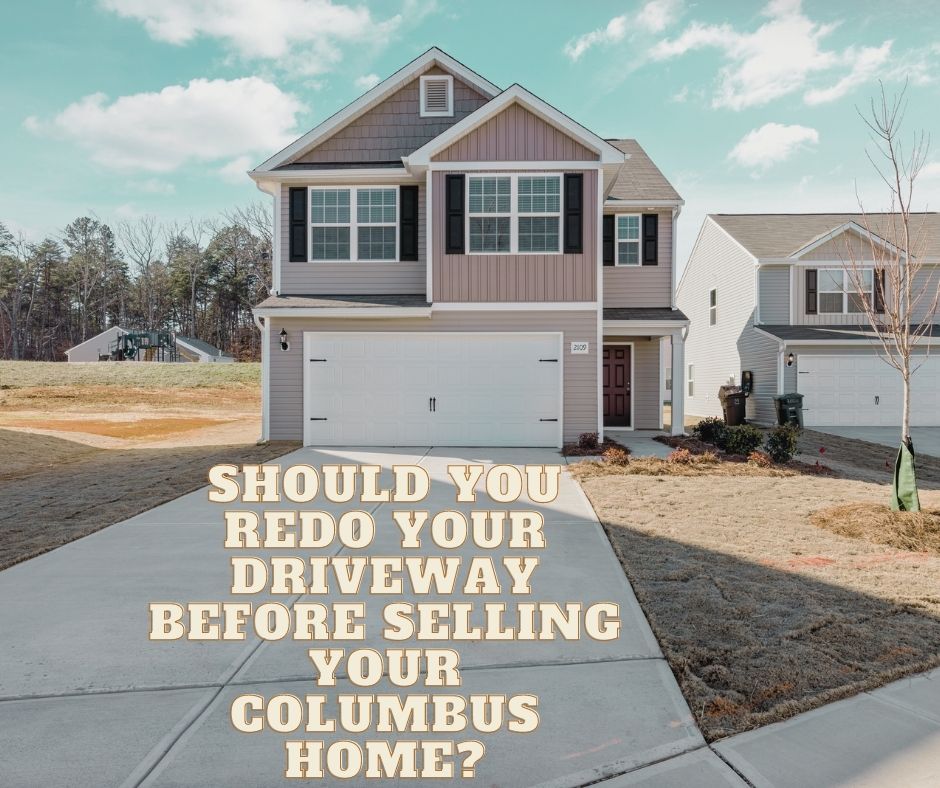 Besides finding a home in a buyer's desirable location in Columbus, Columbus homebuyers are searching for homes that have curb appeal. Curb appeal is a top selling factor that comes to the success of selling a home anywhere.
Curb appeal is the appearance and appeal factor that your home gives from the outside street view. A home that looks great from the street tells a story that intrigues a potential Columbus homebuyer to look further inside the home and gives a higher potential for receiving an offer.
A large portion of the outside of a property is the driveway. If your home has a driveway that is worse for wear it may be worth considering making repairs to add curb appeal to the home as well as a little extra resell value.
In some cases your driveway might simply need a pressure washing to get it fixed up and ready but if your driveway has a series of potholes and large cracks it may need some resurfacing. You want to make sure that you do the job right with the correct quality materials so that issues do not pop up in the inspection.
Choosing the best materials for a driveway makeover
The driveway is important and takes up a large amount of space in your front landscape. Driveways are great because they are your own personal parking that is only for the use of you and your guests. When it comes to making over your driveway there are several options to choose from.
Repaving with asphalt
If you already have an asphalt driveway the easiest and most budget-friendly makeover route could be to repave it with asphalt. Paving a driveway with asphalt can cost between one and five dollars per square foot just for the materials alone. It is a good material option for climates that see very cold temperatures. Installing asphalt should be done carefully if the area you live in receives super hot weather for long periods of time.
An asphalt driveway can last anywhere from 15 to 30 years depending upon the care and maintenance as well as the quality of installation. It is good to note that required maintenance can include sealing the surface once or twice a year due to water exposure.
Paver driveways
A paver driveway is often looked at by Columbus buyers as a thing of aesthetic beauty. Using decorative paving stones gives you a wide range of design choices and can more easily fit into the outdoor design of your home to add even more curb appeal. Driveway pavers do come at a higher cost than other materials and range anywhere from seven dollars to $30 per square foot.
Choosing to use standard traditional bricks can come at a lower cost depending upon the type of brick in the color. These range in price anywhere from one dollar to $25 per square foot. You could also look for reclaimed tricks, Choosing to use standard traditional bricks can come at a lower cost depending upon the type of brick and the color. These range in price anywhere from one dollar to $25 per square foot. You could also look for reclaimed bricks, stones, and pavers to save some money.
Concrete
Concrete is another option for paving a driveway. Some Columbus homeowners choose to use concrete to resurface their driveway because it can last 20 years or more with the proper care. There are also more design options when it comes to using concrete and choosing colors and textured concrete that looks like a different type of material or even stamped to look like pavers can add a lot of appeal.
The renovation website fixr.com prices out the average concrete driveway between $3460 and $6910. Repairing a concrete driveway comes at a price tag between $1000 and $1500. Resurfacing can come in at around $2300 and resealing can be as low as $150.
One thing to know about concrete is that it will crack at some point and patching might be a pain to undertake. Concrete is more prone to cracking in areas that freeze and thaw. It is also good to note that concrete patch repairs are very hard to blend in with the old surface and it's something to consider when opting for colored or stamped concrete.
Choosing if you should repair your driveway
Ultimately deciding if you should take on the cost of repairing your driveway before selling your Columbus home will depend upon its actual condition and usability as well as its impact on the appeal of the exterior of the home. If you are unsure about repairing your driveway it is always good to talk with a local real estate agent to get their advice on whether it is worth the time and cost.
For more information on selling your home in the Columbus area please contact us anytime.