Low Cost Secrets to Selling a Home Faster
Posted by Donald Payne on Monday, September 20, 2021 at 1:08 PM
By Donald Payne / September 20, 2021
Comment
Selling a home in less time not only allows you to move on and find your next best living space, but it also means fewer days of keeping your home in an immaculate state to be prepared for a potential buyer walk-through at any moment. Here are some low-cost secrets to help your home sell faster no matter when you list it, even in a seller's market.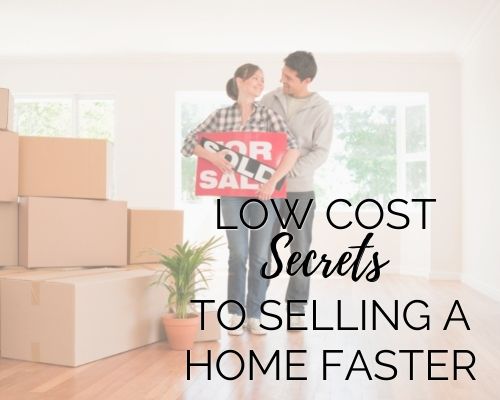 Pick a selling strategy
Before listing your home for sale, it is a good idea to pick a selling strategy that will work best with your current lifestyle and schedule. There are several strategies out there for selling a home including going through an ibuyer or trying to sell the home yourself, but time and time again statistics show that choosing a traditional method of using an expert local real estate agent is always best for home selling success.
Finding the right real estate agent is important. Make sure that you ask any potential agent several questions about how they operate and their specific plans for marketing and selling your home, as well as their experience in selling similar properties to yours.
Cleaning
Nothing is more off-putting to touring a home you are hoping to purchase than it being dirty. The best way to showcase your home in its most amazing state is to invest in professional cleaning services to deep clean every nook and cranny and corner of your house. The cleaner a house is the more it communicates that the home is well-maintained and taken care of, and the more appealing it is to potential buyers.
Temporarily pack away personal items
When a buyer comes to look at a home, they will care very little about what you have done to make it comfy and cozy and unique for yourself. They want to see the home for what it could be for them. If you can pull down personal effects that make the home unique and special to you and stage it so that a large number of buyers can imagine themselves living there, you'll have a much greater success in a buyer falling in love with the home and making an offer. So, begin your packing since you have to do it anyway by taking away those personal items like family photos and specifically stylized belongings into boxes until you get into your new home. This can include any excess clutter or furniture that might make a space feel smaller or less useful.
Get the professional photos
According to home selling statistics, 84% of recent buyers use the Internet to search for homes. Of the 84%, 89% found that the photos in the home listing helped draw them to a home. This means that the listing photos you use for your home are crucially important to the amount of buyer interest that you will have. Hiring a professional photographer to post about 30 photos of your home with the listing is a top strategy for accruing the most buyer interest possible from your online listing.
Consider a 3-D tour
Ask your realtor if they offer a 3-D tour as part of the online listing, or if it is possible to have it included with your listing. Many more online listings are popping up with this feature and it draws a lot of buyer interest especially right now as many people are more hesitant about Covid safety measures. Offering a virtual tour helps to give an even greater insight into a home and brings a higher likelihood of serious buyers touring your home instead of lookie-loos.
Don't forget about the curb appeal
The outside impression of your home matters greatly. You do not have to do an excessive amount to the outside of your home, but it should be freshened up. The landscaping should be well-trimmed and if the home has not been painted in a while, a fresh coat of paint will go a long way to making the home feel new and ready for its next owner.
Be prepared and flexible with showings
This may be the biggest thorn in a home seller's side, but being willing and able to have potential buyers coming to view the home at the drop of a hat could make a huge difference in how quickly your home sells. In a hot seller's market buyers are ready to jump quickly and many of them are hoping to get in and see a home as quickly as possible when they find the listing online. When the competition is so high against other buyers. As a home seller having the utmost flexibility for buyers to come and look at your home in a seller's market is a huge key to selling quickly.
For more information on selling a home in Columbus and surrounding areas please contact us anytime.