It's Spring, Why are There Not More Homes for Sale?
Posted by Donald Payne on Sunday, May 22, 2022 at 8:19 AM
By Donald Payne / May 22, 2022
Comment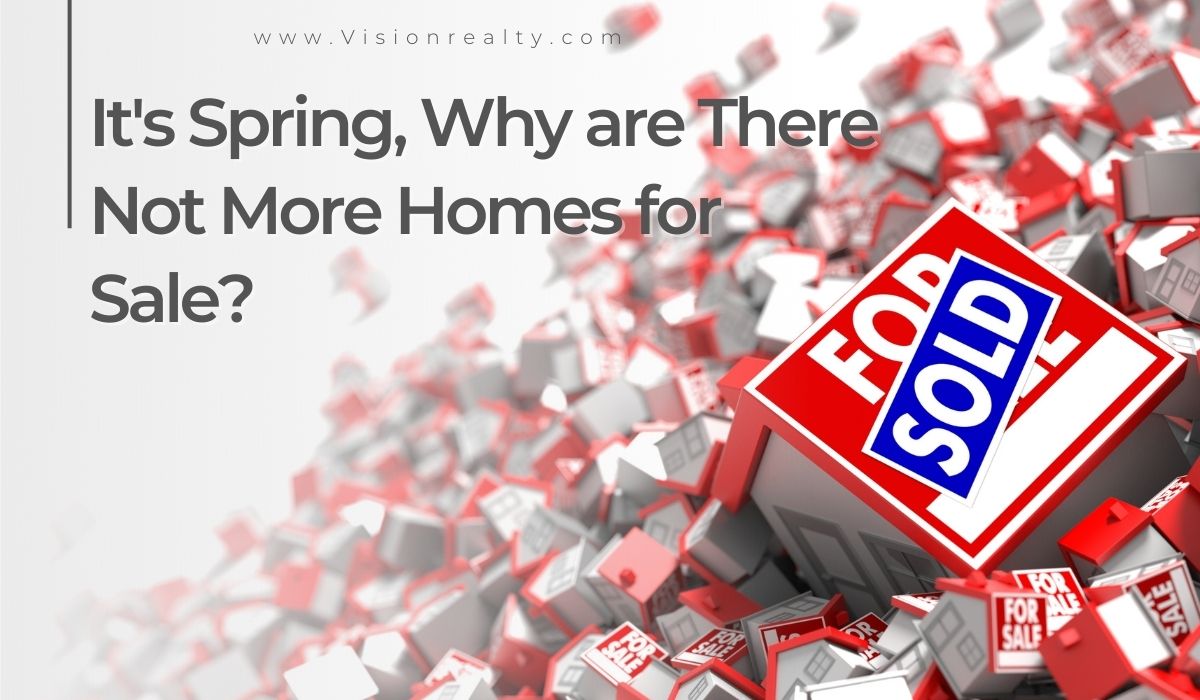 There has been a limited supply in the number of homes for sale all across the country for quite some time now. Some may have heard that real estate experts were predicting a larger number of homes available in the spring of 2022 as this is most often traditionally the peak time for real estate in any year. Numbers for mid-April showed that active listings were down 22% for the year.
Some speculated that the beginning of low inventory was due to reluctance of having strangers tour a home in the middle of a worldwide pandemic. Now, as it seems that many are ready to put the pandemic behind them, housing inventory is recovering at a much slower pace than expected. Why is this? Why are there not more homes for sale?
There are many reasons that homeowners are holding off on listing their homes for sale and that the number of listings is lower than expected. Here are some of the most prominent.
People have not forgotten about the last housing market crash
Though the housing market issues from 2007 and 2008 or about 15 years ago there are still some recoveries going on from this time. Some say there have not been enough new homes built since the last housing crisis occurred.
Since 2008 the number of new homes started has decreased significantly. In 2007 the country saw 1.35 million new construction homes started this number dropped to 554,000 in 2009 right after the big crash. To reach the 1 million mark it took until the year 2014 and we have still not reached the 1.5 million number that was seen in previous decades.
Most of the new construction being built in 2021 was for apartments and multi-family dwellings causing a supply issue for single-family homes. But it is only a small portion of the reason for low inventory levels.
A larger demand from buyers
This reason comes as no surprise that there was a larger amount of people interested in purchasing homes over the last few years. With mortgage rates dropping very low it brought new life and motivation to homebuyers, especially millennial-aged buyers. These are buyers within the age range of 23 to 41. This is the largest living generation in the United States and typically they were less interested in homeownership as compared to previous generations but now it is said more than four in 10 homebuyers are in this age range. This coupled with motivated buyers from Gen Z has brought much more demand for first-time buyers and affordable homes.
Homeowners considering selling reluctant to become buyers
With the increase in home value, it has become promising to sell a home with plenty of equity in it. But even with the ability to turn the equity into a sizable down payment on the next home, the competition is still very stiff among buyers. There is an increasing number of homeowners that have toyed around with the idea of selling their home but then when they think of navigating the market as a buyer right now, they ask themselves where they would move to and consider holding off.
Competition with large investors
There has been a high Drive amongst investors to purchase real estate over the last few years. This is for a number of different reasons one of them being the ability to borrow money at a very low-interest rate while building an almost passive income. Unfortunately, it makes competition more difficult as investors are able to almost purchase entirely with cash and some of them are purchasing homes with all-cash offers. This has caused their offers to be more intriguing to sellers and in some areas allows them to win out over other types of buyers. In some cases, properties are being purchased by investors before they are listed.
It could take a few more years before inventory numbers come back up to what is considered a more balanced level. This does not mean that you should give up on purchasing a home right now as waiting could still cost you more money. What it does mean is that now more than ever you should be working with an experienced real estate agent that is ready to go the extra mile to help you find a home you love.
For more information on real estate in Columbus and surrounding areas please contact us anytime.