Is it Better to Purchase a New Construction Home or a Resale?
Posted by Donald Payne on Tuesday, November 22, 2022 at 9:28:27 PM
By Donald Payne / November 22, 2022
Comment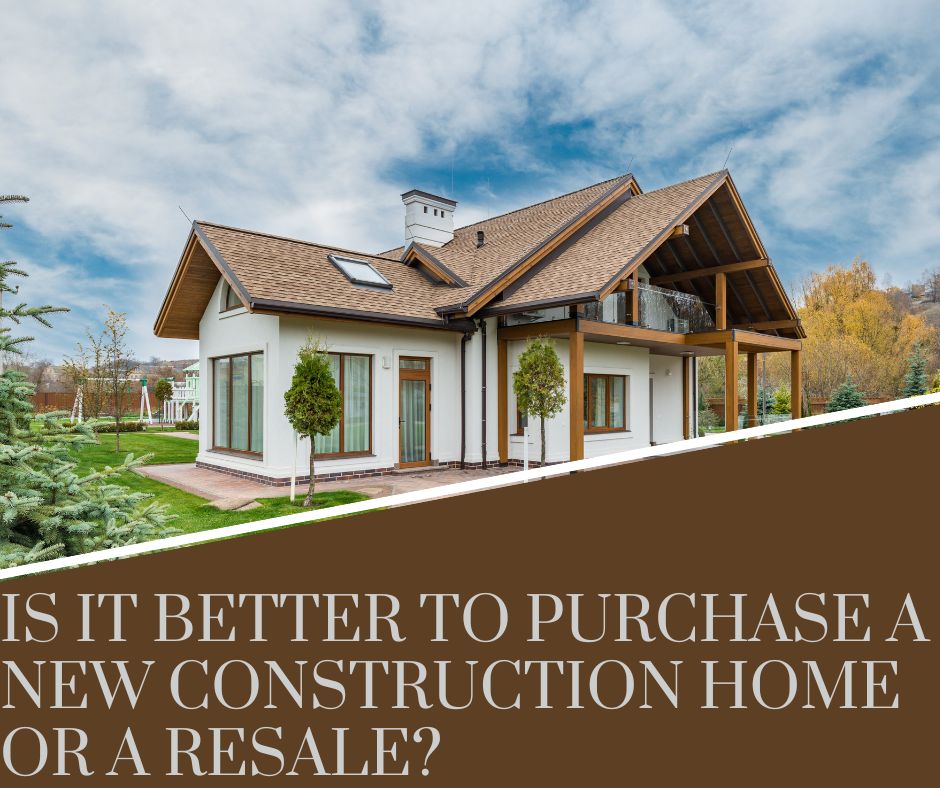 Purchasing a home comes with a myriad of different decisions. There is deciding on the features you want in your home to deciding the location and deciding the price point. One of these decisions includes whether to purchase an existing home that has already been owned or buy a brand new home that has been recently constructed or is soon to be finished.
There is a benefit to the purchase of either type of property. The answer to the question of which property is better to purchase depends upon your personal needs and wants for your next home purchase.
The differences between brand-new construction homes and resell homes
The difference between these two types of homes may seem obvious in the fact that one is brand new and has never been lived in and the other is not. But sometimes a home can be a resale property and it has only been lived in for a very short amount of time. Some homes have been put on the market when they have only been occupied for as little as one month or even one week. Essentially these are practically brand new homes.
Choosing between brand-new construction and existing homes
Deciding whether you should purchase a brand new home that no one has ever lived in before or buy one that has been previously owned can be a tough decision to make. Both types of properties have their benefits as well as their drawbacks. Here are some things to consider when shopping and making your decision.
The different price points
In most cases brand new homes are going to come with a higher price tag than a pre-existing home that has been pre-owned. This is especially true if you are choosing a home in a luxury housing community or a custom-built home. The national average according to the National Association of Realtors for pre-owned homes was $391,000. The national average for a brand-new construction home was $517,700. Using these numbers the average new construction home is 32% more expensive.
New construction homes can come with surprise costs
When purchasing a resale property near purchase process is pretty straightforward. There can be some hiccups or surprises along the way but for the most part, the financing is pretty straightforward once you have negotiated and agreed on a final purchase price with the seller. In some situations, you can't even negotiate the closing costs where a portion is paid by the seller on your behalf.
With a new construction home, it is very unlikely that the builder will pay for closing costs unless they are offering a current builder incentive. Choosing a custom build or custom finishes in your home while it is still under construction can also add some surprising costs to your purchase.
Different buying timelines
When purchasing a new construction home, the timeline for moving in can be longer than purchasing a resale home and become longer as time goes on if the home is still under construction.
One of the biggest perks to purchasing a resale property is the timeline for moving in is often much shorter. But in some cases, there could be a few hiccups with the seller securing their next housing and this can push your closing date out. But for the most part, the moving timeline is pretty standard once a closing date is set and agreed upon by both parties.
So Which is the Better Home Purchase?
There is no black-and-white answer as to whether purchasing a brand-new construction home or a resale home is the better choice. It ultimately depends on what you really need from a property and what your overall homebuying budget is at the time.
For more information on real estate in Columbus Ohio please contact us anytime.