How to Start an Herb Garden in Your Home
Posted by Donald Payne on Monday, April 26, 2021 at 8:55 AM
By Donald Payne / April 26, 2021
Comment
There are many homeowners that love spending time in their kitchen, and many more that recently discovered a love for creating edible works of art in their own kitchen since the pandemic started. It is not hard to see how the cliché " the kitchen is the heart of the home" came about.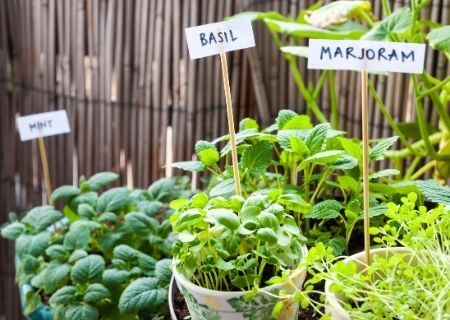 Something that many home cooks have begun to do to enhance their cooking experience in their own homes is to use fresh herbs. One way cooks are making it easier to do so is by planting an herb garden in their home or backyard.
The Benefits of Home Herb Gardens
Having your own herb garden allows you to know exactly what you are eating. You know how the herbs were grown, what they were grown in and with, and how they were prepped and washed before being placed in your food.
There is also a level of satisfaction and accomplishment in being the one that helped bring the herbs into existence, in growing something all on your own that you are able to use often.
Adding an herb garden to your yard can also bring value to your home. How much value an herb garden adds to a home does depend on a few factors such as its size, how well it produces, if it is a highly desired amenity for your area, etc. Most of the value of an herb garden when selling a home is placed in its desirability to the buyer.
Starting an Herb Garden
There are several ways to start an herb garden, but the way in which you go about it will depend upon the conditions for growing at or in your home. If you live in an apartment or condo for example, you will be limited to a terrace herb garden in pots or indoor herb garden in pots.
How to Create Container Gardens
Small Indoor Herb Gardens
There are many ways to grow an herb garden in your home, even right inside the kitchen where it is super convenient. Some herb gardens can even be used as focal design elements in a home. There are many great indoor herb garden kits that you can purchase at garden stores or even online.
Balcony/Planter Gardens
If you have a small patio or balcony space you can make use of an herb garden in planters. Just make sure you are aware of limitations like how much sunlight there is and what size of planter you can make use of. Also, make sure if you have any owner association rules of what you can place on your patio or balcony. Just make sure you are planting herbs that like to live in pots such as mint and parsley.
Backyard Garden
An herb garden planted in the yard allows for the most space and options of what to plant, again depending upon your sunlight (and soil conditions). Just make sure to consult the advice of a professional before investing a significant sum of money on a large garden. You want that investment to be successful.
For more information on buying or selling a home in Columbus and surrounding areas please contact us any time.