How to Stage the Perfect In-Home Office
Posted by Donald Payne on Sunday, November 15, 2020 at 7:48 PM
By Donald Payne / November 15, 2020
Comment
Did you know that some 30 million Americans work from home at least once a week and that that number is expected to increase to 63% over the next five years? It makes sense, then, to have a home office of some type in your home, especially if you're planning on staging and selling your property.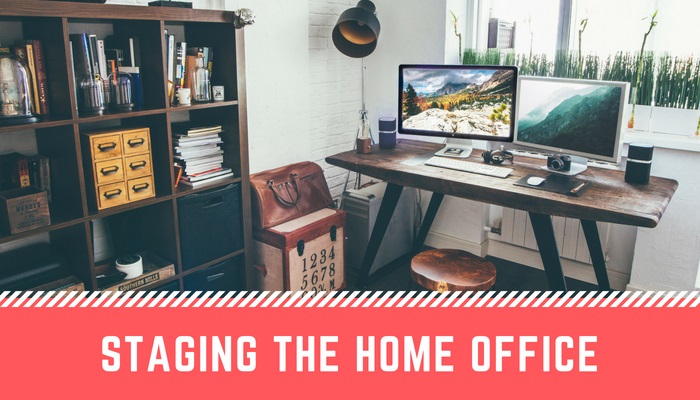 The home office concept is changing. We don't need a large desk to fit our computer apparatuses these days as most laptops can be as small as 10 inches and weigh less than 2 pounds. Monitors have become thinner and traditional office equipment such as copy and fax machines have practically been eliminated.
This means that potential buyers need to visualize where they'll be doing this work from home business when they walk through a listing. Most homes don't usually have a dedicated office space so flexibility is important. Here are some basic tips on staging the perfect and home office space.
Ask yourself if you need a private and dedicated workspace. Can this be combined with a guest room, playroom, or hobby room? Or, do you need quiet and confidentiality? You might need a separate room away from the main activity of the house. Extra bedrooms are ideal for this and it means you can focus without a lot of interruptions.
Can you share the space? Sharing the space with a significant other or spouse can work for some couples but it also can be challenging. Setting up desks in opposite corners of the room might prove useful and then have a shared space for printers, a seating area, or small table for coffee or books. A bookshelf, file cabinets, and other necessities could also be shared while desks remain separate.
What about sharing the space with other activities? Do you prefer an office space in your bedroom? If the bedroom is large enough, is there a seating area that can be sectioned off in one corner of the room? This might prove difficult as the more time you spend in your bedroom, the less sleep you make it at night.
Find out where you focus the best. Some people focus greatly in the living room, dining room, or kitchen so setting up a small office where the activity hub of the home is might seem useful. But, if you get distracted rather quickly, this may be the worst place for a home office.
Are you planning on writing off the space on your taxes? This only applies if the main place of business is used exclusively for work. That means you cannot play video games at the computer desk, pay your bills, or scroll through Facebook or Pinterest. If you move your desk around, it's going to be very difficult to properly deduct it on your taxes.
These are just some things to consider when planning and staging and a home office. It is definitely a buyers perk and something that many potential buyers are looking for. Many new homes have oversize landings at the top of the stairs that make ideal spaces for an office, so long as you don't need a lot of privacy and don't mind people walking by occasionally.
As long as there is a seating area, outlets, a computer desk, and space for files and other office equipment, buyers will see this as a benefit to the staging process.