How Long Does it Take to Purchase a Home Right Now
Posted by Donald Payne on Monday, April 12, 2021 at 10:46 AM
By Donald Payne / April 12, 2021
Comment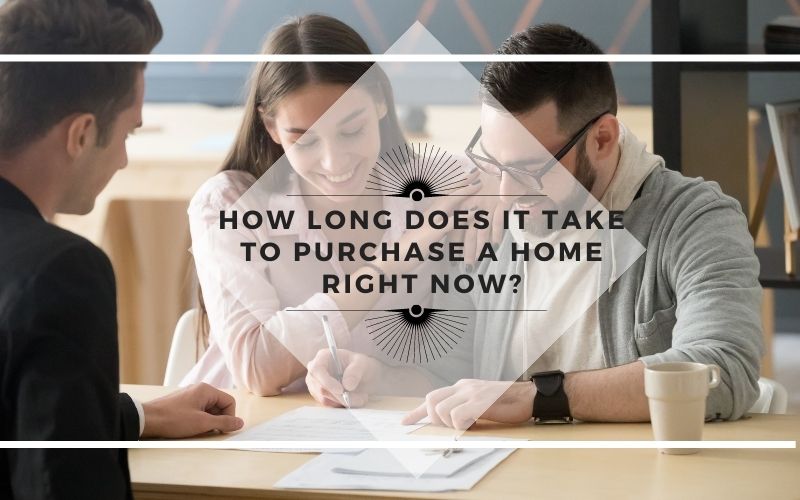 The process of purchasing a home can be extremely exciting and very nerve-wracking at the same time. There can also be some aspects of the home buying process that you were not prepared for, even if you have previously purchased a home. There is no exact same process for every home purchase, but there are some bigger aspects of home purchases that stay the same with every home purchase.
One item that can catch many buyers off guard is the timeline of the closing process after their offer has been accepted by the current homeowner. One question many buyers have is how long should the purchase process take?
There are a lot of factors and variables that go into the closing process of a home. The length of the closing transaction for a home is going to be dependent on those variables and the specifics of those variables for the particular home you are buying. This can even include the specific location of the home, how you are planning to pay for the home and the condition of the home.
The fastest traditional timeline for purchasing real estate would be a cash purchase on a single-family home with no HOA regulations. In this scenario, there is no lender mandates, no financing approval, and no HOA or condo board approval. In this example, the home sale would close in about 30 days, granted there are no hiccups.
This is a best-case scenario that is not typical of most home sales. The average timeframe for most home closings is between 30 and 45 days from offer acceptance. There are several items that can cause a closing process to slow down.
The General Steps of the Closing Process
There are steps that every home sale will take to get from offer acceptance to money being transferred to the seller and keys being given to the buyer, or the official closing of the sale. This is called the closing process.
These steps include opening an escrow account to hold earnest money and any other required deposits on the home, officially applying for the mortgage on the specific property you made an offer on, getting an appraisal if the mortgage company requires, having a home inspection done if required by the bank or wanted, and renegotiating the contract after the appraisal and the inspection if necessary, getting necessary insurance for loan approval, and signing final closing documents.
All of these steps are to be expected in a closing process, but exactly how long they will take can vary depending upon specific factors that can include the ability to get an appraisal appointment, the appraisal coming in at the number expected (sometimes it doesn't), the inspection going well, etc. Each individual piece of the closing process will come with its own specific timeline for each individual home.
So the answer for how long does it take to buy a house? There is no solid one-size-fits-all timeline. For most home sale transactions right now prepare the process to take between 30 and 45 days from when you make an offer. Yes, there is always a place in a contract to set a preferred closing date, but sometimes that date can get pushed back. So be prepared to exercise your patience, and of course, always have an expert agent at your side.
For more information on homes for sale in Columbus and surrounding areas please contact us any time.