How Long Does it Take to Close on the Purchase of a Columbus Home?
Posted by Donald Payne on Wednesday, July 19, 2023 at 3:26:07 PM
By Donald Payne / July 19, 2023
Comment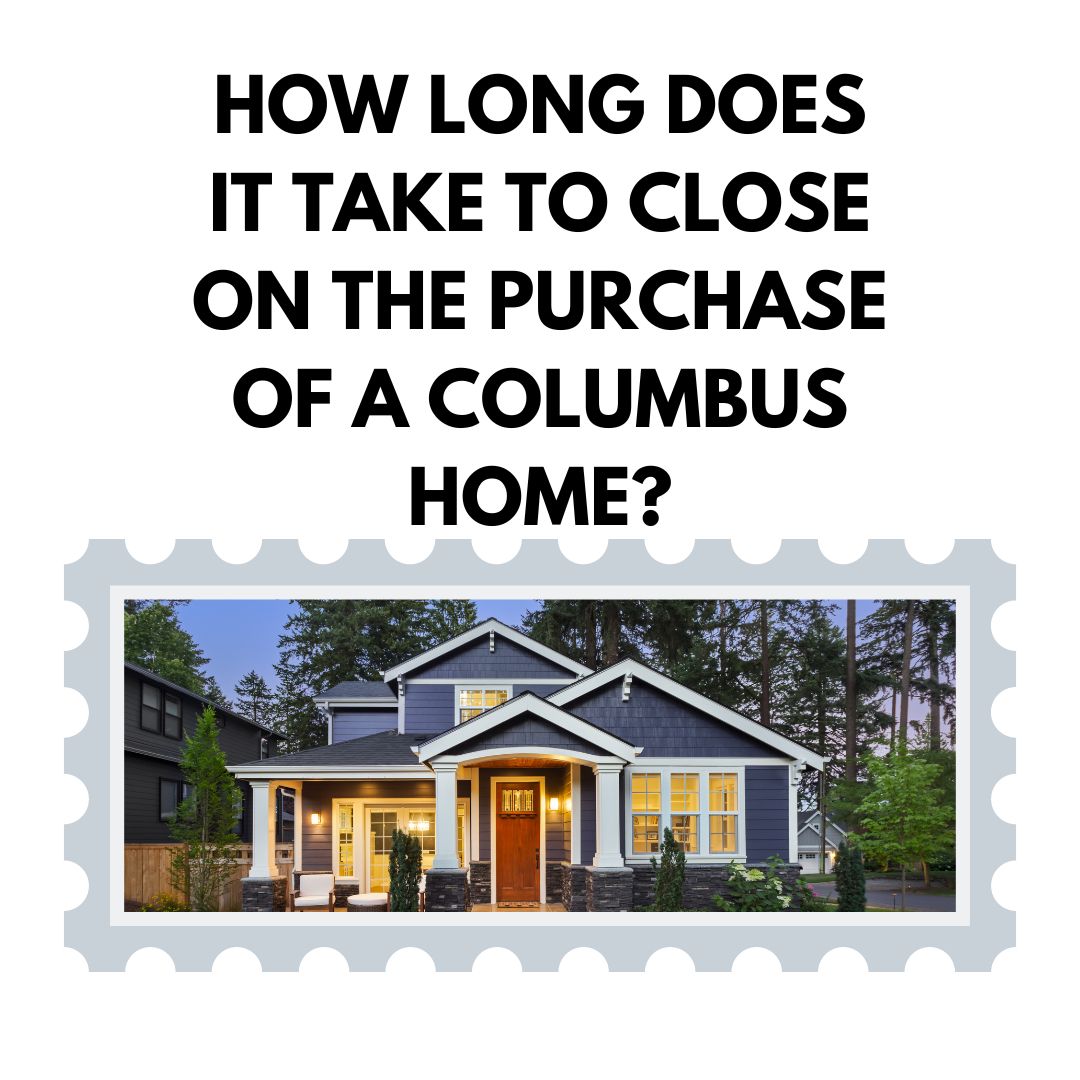 After making a purchase offer to buy a Columbus home it needs to be accepted by the home seller to be officially under contract. After your offer is accepted the sale is considered pending before it officially closes. This is called the closing process. A question that many new homebuyers have is "How long will it take to close on a Columbus home purchase?"
There are several steps that both the buying and selling parties need to go through to fulfill all of the conditions included in the purchase agreement. Some home purchases have a faster closing process than others. The biggest factor of many closing timelines on home purchases is the final mortgage loan approval.
The Standard Home Closing Timeline
After signing the purchase contract (both the buyer and seller) the terms of the contract will take effect. This means that the buyer has to take care of the items necessary to fulfill their purchase offer. This includes finishing loan paperwork, hiring an inspector if the contingency was included in the contract and other items.
Complete and submit the mortgage application
This is the most important step after your purchase has been accepted by the home seller. The buyer will need to contact their lender and let them know that they have made an offer on a home and give them details about the specific home and the amount of money they offered to purchase the home. They will then also need to fill out additional paperwork to get their loan finalized and approved. If a home buyer has gone through the preapproval process this will help to eliminate a lot of needed paperwork.
Escrow
The escrow account is set up to hold the buyer's earnest money which is a good faith deposit for the agreed-upon amount specified within the purchase contract. At this time the home buyer gives the earnest money either to their realtor or to the escrow agent to hold in a safe place in an escrow account within three days of the mutual contract acceptance.
Title Search
A title search should be ordered to ensure that there are no other claims to the property and that the title is clear for the current homeowner to be able to sell the home. During a title search, public records are examined to make sure that there are no claims or deeds on the property. This process can take anywhere from 10 to 14 days.
Home Appraisal
Depending on the loan terms a mortgage lender most often will require that a home appraisal will be conducted by a professional and licensed home appraiser to ensure that the bank is not letting out more money to the home buyer than the home is worth. If the buyers purchase the home with cash then the step is only necessary if the home buyer decides they would like to include it in the contract conditions. Depending upon how busy appraisal professionals are this process can take anywhere from a couple of days to more than a week.
Home inspection
Home inspections are optional but in our opinion should never be waived especially if you are not a contractor or construction professional. Making sure that you know the condition of the property you are buying is safe and not in need of major repairs that could cost a fortune is always a good idea. Should something extensive and concerning be found the contingency gives you the ability to walk away from the offer without any negative repercussions. It only takes a few hours for an inspector to look over a property but it can take a couple of days for them to compile the official report.
Final walk-through
Not every home buyer chooses to do this step but it can be a good part of the closing to do. This happens after all of the inspections and home appraisals have been conducted and any negotiations have been discussed after discovering anything in the inspection report that might be concerning. If there was anything wrong and negotiations were discussed for buyers to make repairs then a final walk-through gives the buyer time to take one last look at the property to ensure it is in the condition that they expect it to be according to the purchase contract.
Final closing documents
Once all of the due diligence has been done and the agreed-upon negotiations have been taken care of and the mortgage paperwork is ready for final signing it is time to sit down with an official notary or title agent to go over the closing documents and cross all the t's and dot all the i's. This is where you officially sign all of the lines in your contract for a home purchase and for a mortgage. Once this is complete all closing costs are paid through a final check and you will be given the keys to your brand-new Columbus home.
The closing process can get stressful for some but having your real estate agent by your side to walk you through will help it to be less stressful and less scary. They can help to explain each step and also reassure you that hiccups happen to help get you from purchase to finalization.
If you are interested in purchasing a Columbus home I am here to help. For information on available Columbus real estate please contact me. I am dedicated to finding my clients a Columbus home that they will love with as little stress as possible.