Home Renovations that Don't Sell Well
Posted by Donald Payne on Thursday, April 9, 2020 at 7:40 AM
By Donald Payne / April 9, 2020
1 Comment
Unless you had your home custom built it, there is probably a thing or two you would change about it. If you are planning to remodel a home you do not plan on living in the rest of your life you may want to consider how those projects will impact the home's resale value. Below we have put together a list of the top home renovations that don't tend to be very popular when you put your home on the market.
Related: 4 Things You Should Be Doing if You Want to List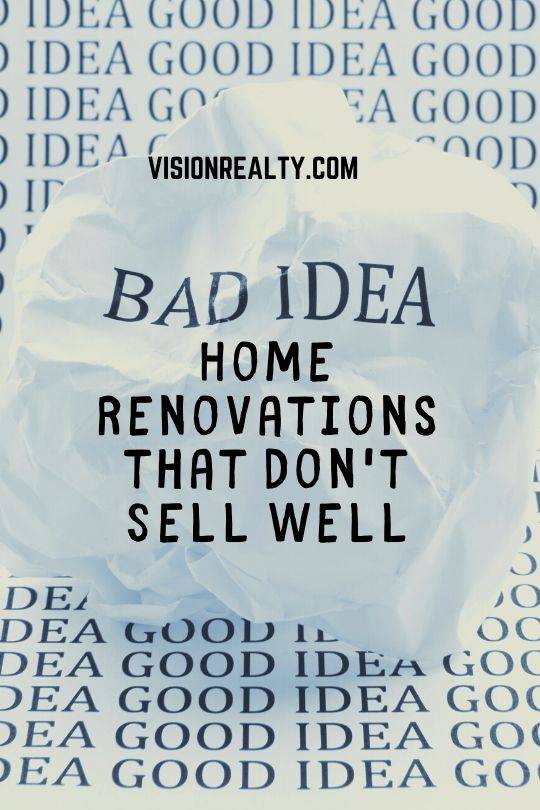 The kitchen of course is the room in your home where you can get the most return on your remodeling dollars. In order to get a nice return on investment you want to make sure you keep it simple. Don't go overboard with making the kitchen fancy, you run the risk of personalizing it to your dream kitchen. What you may think a dream kitchen should look like will not be what someone else has dreamed their kitchen to be.
Just a short while ago fancy electronics and rooms built around them, were very popular. The technology market keeps getting faster and faster with new product output. So that smart tv and top of the line sound system conveniently built into the walls to look sleek and stylish is going to be old in just one year.
A better investment would be the system that is freestanding and you can take with you.
Getting Rid of a Third or Fourth Bedroom
Maybe knocking out a bedroom to make more space for a larger master suite sounds glamorous, but it can actually do more harm than good when trying to sell. If the neighborhood standard is three-bedroom houses, a two-bedroom house is going to get skipped over when buyers are looking at online listings.
In mid-priced homes, research has shown that improvements made above ground level go a lot farther in return on investment than expertly finishing the basement. Finished basements are always a plus, but if the basement is nicer than say the extra bedrooms buyers won't be super excited about it.
Outdoor Living Spaces that Don't Work with the Climate
More and more people are beginning to get out in their yards and enjoy not just hanging out there, but entertaining from the yard as well. If you install a fancy outdoor kitchen with stone counters and a fancy built-in barbeque in a climate that gets heavy snowfall where these things can't be used more than two month out of the year, you won't see a big return on the money you spent. Northern climate, for example, gets a better return on installing a simple cover and a nice fireplace instead of an area that requires more upkeep and care.
Need help selling your Columbus area home? Contact us any time. We have a knowledgeable staff to help make the process as stress-free as possible.
Related Tips for Sellers: