Home Renovations That Decrease a Home's Value
Posted by Donald Payne on Sunday, June 21, 2020 at 7:10 PM
By Donald Payne / June 21, 2020
Comment
Over the decades of being in the real estate business, I've seen just about everything out there when it comes to renovations and so-called home improvements. Some definitely add value to the house while others actually bring the value down. If you're considering doing a home renovation in order to sell the property, don't make these mistakes.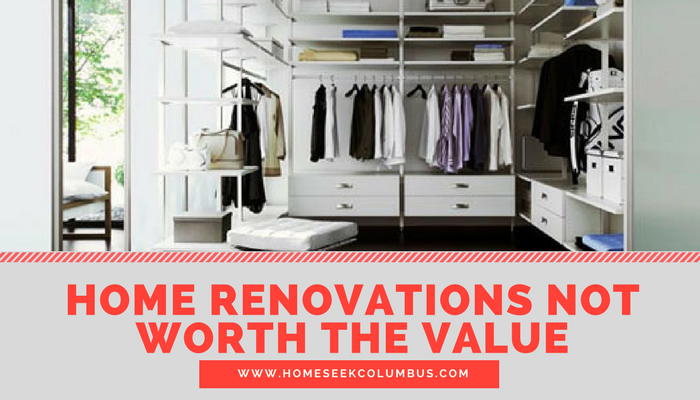 Expensive lighting fixtures.
Buy it for yourself, not for anyone else. If you're planning on selling your property the last thing you want to do is by an extravagant, lavish lighting fixture that no one but you might like.
Wallpaper.
Unless your last name is Gaines, don't risk putting up wallpaper. Loud or patterned wallpaper can be an overwhelming design choice and most buyers are looking for simple and clean.
Quirky or eclectic decor.
Cutesy title, kitschy backsplash, or bright colors just don't fly when you're trying to sell your property. It needs to be simple, warm, and neutral. If you're not selling, do it for yourself, but if you are selling, looking to something a little more neutral.
Read More: 5 Mistakes People Make When Decluttering
Combining rooms.
Combining two small rooms to create a bigger bedroom might seem like a good idea to begin with, but, if you don't plan on staying in the home for very long, decreasing the number of bedrooms will only decrease the value. They may be small bedrooms, but they are still bedrooms. They will count towards the overall room count of the house and increase the value.
Decreasing the size of the closet.
We've seen people decrease the size of a walk-in closet to make more room in another room such as a bedroom or bathroom, but people really do love their closets. Try to find another way to increase other rooms other than detracting from the closet space.
Built-in electronics.
Unless you are a downtown Los Angeles condominium, built in electronics are just not what most people are looking for in a home. They take up a lot of space and could actually put off potential buyers. This could lead to a decrease in the home's value.
Pro Tip: "Even on luxury properties, many home buyers don't want built-ins. Luxury home buyers are looking for practical built-ins that look like they were meant to be such as kitchen built-ins for wine storage or other types of storage, built-in electronics really don't appeal to many luxury buyers because they already have a lot of these items and it will just be the wrong size or waste of space." - Orlando Luxury Broker
A swimming pool or hot tub.
Now, in the Columbus area we don't have a lot of backyard swimming pools, but unless you're going to stay in the house for several years, don't assume that a swimming pool increases your chances of selling or the home's value. Buyers actually are turned off by most pools and spas because it has a lot of responsibility and maintenance to homeownership.
Converting the garage.
Homebuyers want the garage to be a garage. They don't want it to be a fitness conversion area, daycare space, additional room, or mother-in-law suite. The chances of a buyer wanting exactly what you've turned your garage into are very slim. Keep it as a garage and a home for your vehicles.
Some of these items are very expensive to incorporate in your home and some are not, but really considering why you want the additional renovation versus the return on the investment needs to be something you consider. If you have questions about your specific home and if buyers will appreciate some home renovations you've recently done, give me a call. I love to discuss anything Columbus real estate related with you today.
Image by jingdianjiaju1 Join me on Linkedin for the original post