Home Maintenance Tasks to Do for Each Season
Posted by Donald Payne on Monday, September 16, 2019 at 8:53 AM
By Donald Payne / September 16, 2019
Comment
Whether you are planning out your home maintenance schedule in the spring or the fall, there's something you can be doing to improve the upkeep and maintain your home every single season. Here's a great checklist of different home maintenance tasks to complete each season.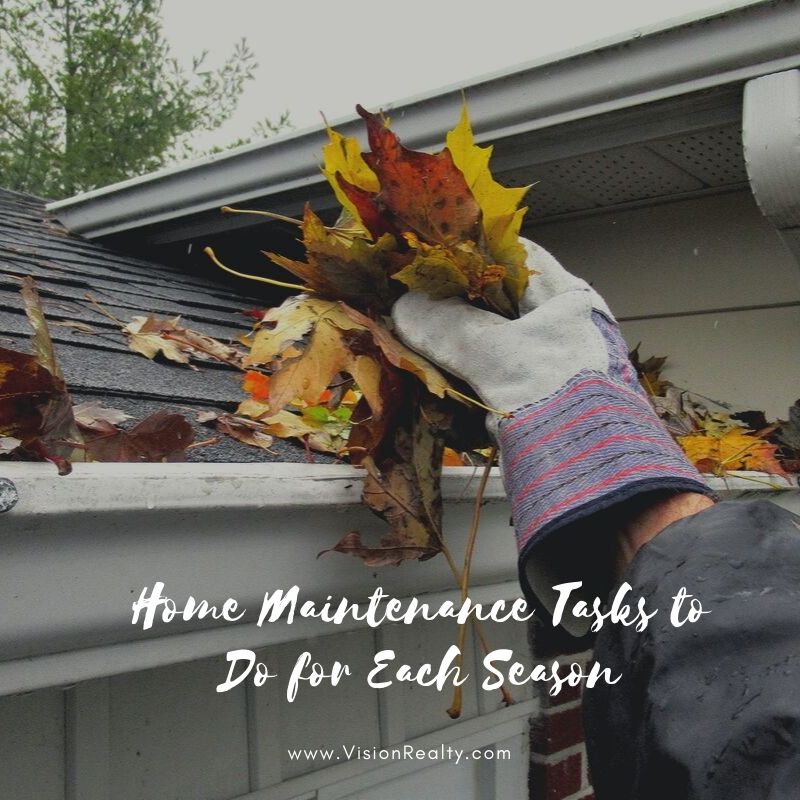 Fall
Since we're heading into fall with this post I'll start there. It's a great time to clean up household items, kind of do a second spring cleaning and prepare for cooler weather. Here are a few things that you can start with.
Clean out your gutters. Falling leaves and debris will fill your gutters and clog downspouts. Once the snow hits, ice and water will collect within the leaves and could break shingles, roofing, gutters, and downspouts so they should be cleaned and cleared.
Protect pipes. Wrap pipes in crawlspaces, attics, and basements that may be prone to freezing. The last thing you want is for a broken pipe in the middle of winter.
Inspect your heating and cooling system. You might be switching over from air-conditioning to heating right now so it's important to have your furnace or heatpump serviced. This also may mean cleaning out the chimney as well.
Add insulation. Now is a great time to add additional insulation to protect the integrity of your home and keep you toasty warm in the winter.
Winter
You might think that in the dead of winter is not the time to be looking at home maintenance projects but there are a few things you can be doing.
With colder air outside it's a good time to check cracks and holes around door frames and windows.
Clean out the dryer vent. Your dryer will probably be working overtime, especially on snow days so make sure that dryer vent is vacuumed out, clean and clear.
Check your insurance coverage. I know this isn't a home maintenance tips but if anything should happen such as a tree falling on the house, outbuildings, or car due to snow or wind, discounts on security systems or alarms, and make sure that any home improvements you've done over the summer are completely covered.
Spring
Spring is a great time to Declutter, clear out, and get ready for summer.
Clean out those gutters again if they clogged up with pine needles and leaves over the winter.
Check any holes around your house, under the ease, and in the crawlspace to make sure they are blocked off for many critters that might want to crawl in and start a family.
Check and service any sump pumps.
Clear out any old items, recycle, donate, have a garage sale, or simply toss items that are no longer usable.
Summer
Summer is a great time to make sure all your home systems are in good working order. Check the batteries in smoke detectors, check GFCI outlets, prune and trim branches, trees, and shrubs, and put a good dose of nitrogen on your yard to get ready for a nice green lawn.
Make up a simple spreadsheet with all of your items on them and take it either to the backside of your garden shed or in the garage so you know what to tackle each season. With a little bit of care every few months, your home will reward you by being warm and toasty in the winter or nice and cool and clean in the summer.
More Great Tips