Help Make Moving Less Stressful with This Checklist
Posted by Donald Payne on Thursday, August 20, 2020 at 2:12 PM
By Donald Payne / August 20, 2020
Comment
Moving from one home to a new one seems pretty straight forward. You pick up your things, put them in the car, and drive them to the new home, then put them away. Right? When you finally start thinking about the logistics of making that happen it can begin to get overwhelming. There is what to actually bring with you and what to donate, what services need to be notified of your new address, what services need to be canceled, and of course, making sure everyone gets from the old home to the new one.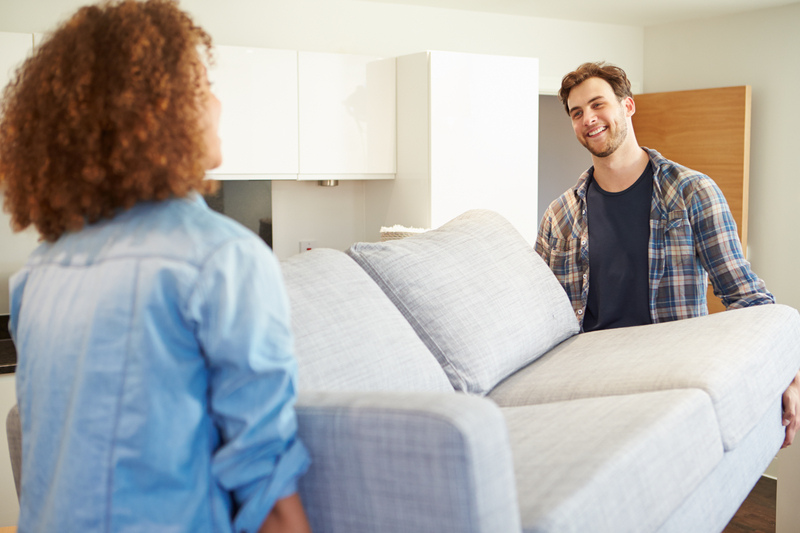 The best way to help you get through the entire process with as few hiccups as possible is to start planning far in advance. We suggest as soon as you accept an offer and your home is officially in a pending sale. If you can start 6 weeks ahead of your move date it is ideal.
Here is a 6 Week Checklist to Help Your Move Go More Smoothly
6 Weeks Prior to Moving:
Take Inventory of Everything You Own
Walk through your home and any storage spaces on your property. Begin to create lists of your belongings. Start by listing out the largest items, furniture, electronics, and appliances. Either columnize them into three categories or make three separate lists of items you will be leaving in the house, and those that will be sold or given away.
Contact Moving Companies and Get Estimates
If you plan to use a company to help you move it is best to contact them as much in advance as possible to be sure they are available for you. If you plan to move yourself and rent a truck, van, or trailer it is good to reserve what you need with plenty of notice. Call around for estimates to get the best price.
Talk with Schools
If you have children now is the time to talk with their current school about the move and let their new school know they will be coming. It is best to do this with as much time as possible on your side as some schools may need extra time or may be full and need to figure out a way to find room for your kids.
Plan time for Donations or List Items for Sale
If you have large items you are not taking with you it is a good idea to list them for sale now or plan a time for it to be picked up or driven to be donated. You don't want to be left posting, "please come and get this today," on craigslist.
4 Weeks to Moving
Verify the Moving Date and Location with the Movers
If you did not have the location and exact moving date to your new home when you scheduled the movers before, now is the time to call them up and let them know the exact day and address where your items need to go. Even if it is just to a storage unit because you have not yet found a home you love.
Begin Packing Boxes Room by Room
Start with rooms that are used the least. For example the holiday storage closet or the guest room. As you pack boxes make sure to write in large letters what room it goes into and what contents are in the box. We even like the idea of color-coding them to make unloading even easier. You can even purchase color-coded moving box tape at the store.
Contact the Utility Company
Now is the time to call up your current utility providers and give them notice you are moving and let them know when you will need your service cancelled or your account transferred to a new address if you are staying in the same service zones.
3 Weeks Before Your Move
Make Parking or Loading/Unloading Plans for the Trucks
If you live in an urban area or an apartment or condo building you will want to make arrangements for the moving truck to be able to park as close as possible to your door. If you are using a moving company they may plan to get permits as part of the service. Make sure to ask.
2 Weeks Prior to Moving
Pack, Pack, Pack
Pack anything that has not yet been packed and you are able to live without for the next few weeks. This would be items like books, movies, decorations, wall art, throw pillows, extra linens, out of season clothes, etc.
Repair the Walls
Now that you have all of the art off of the walls, it is time to spackle in those holes and touch them up with paint or repaint. It is a nice gesture for the next residents. If you live in an apartment it may be required to get your deposit back.
1 Week to Moving Day
Finish Up Packing and Make a Moving Day Schedule
Pack away everything else that has not been put in a box leaving some space and an open box or two for items you need up until the day before like pots and a few dishes. Then make sure you know the schedule for moving day and everyone else that lives in the home does as well so everyone and everything arrives in the new home safely.
Confirm with Your Movers
Now is a good time to double check with the movers they have you all set for you appointed day and time. You don't want to get to the day before or day of and something is scheduled wrong.
Call Professional Cleaning Services
It is a great idea to have your home professionally deep cleaned before you bring all of your stuff in. Now is a good time to call and make appointments for things like tile and grout cleaning, carpet cleaning, and even just general maid services to come in and get the place spotless before the movers arrive with your things.
One Day Before
Do Some Cleaning
Clean up after most things are packed and out of the way. If you are leaving a rental you will want to be sure you do a thorough job to get that deposit back. Make sure to give special attention to kitchens and bathrooms.
Confirm Keys
If you do not already have the keys to your new home, make sure to check in with the person you are grabbing them from to confirm the time and place of pick up. You don't want to hold the movers up because they can't get in.
Day of Moving
Let the Movers In
Be ready to welcome the movers in to get to work at the scheduled time and give them instructions on what needs to go on the truck.
Do the Last Bits of Cleaning
Make sure once every piece of furniture and every box is out of the home to do one last final walk through and clean up of the home, especially if you are renting.
Get To Your New Place to Let the Movers and Cleaners In
Make sure you arrive at your new home before the cleaners and movers will to let them in so there is no delay in moving your stuff. When they are done or as they are unloading you can begin to unpack the boxes in your freshly clean home,
For more buying and selling tips and advice check out our website. For help buying a home in Columbus or surrounding areas please contact us anytime.
More Tips:
How to be an annoying home seller in 8 easy steps
How to Pick the Best Neighborhood