Great Flooring Ideas for Your Home that Aren't Hardwood
Posted by Donald Payne on Tuesday, September 6, 2022 at 11:15 AM
By Donald Payne / September 6, 2022
Comment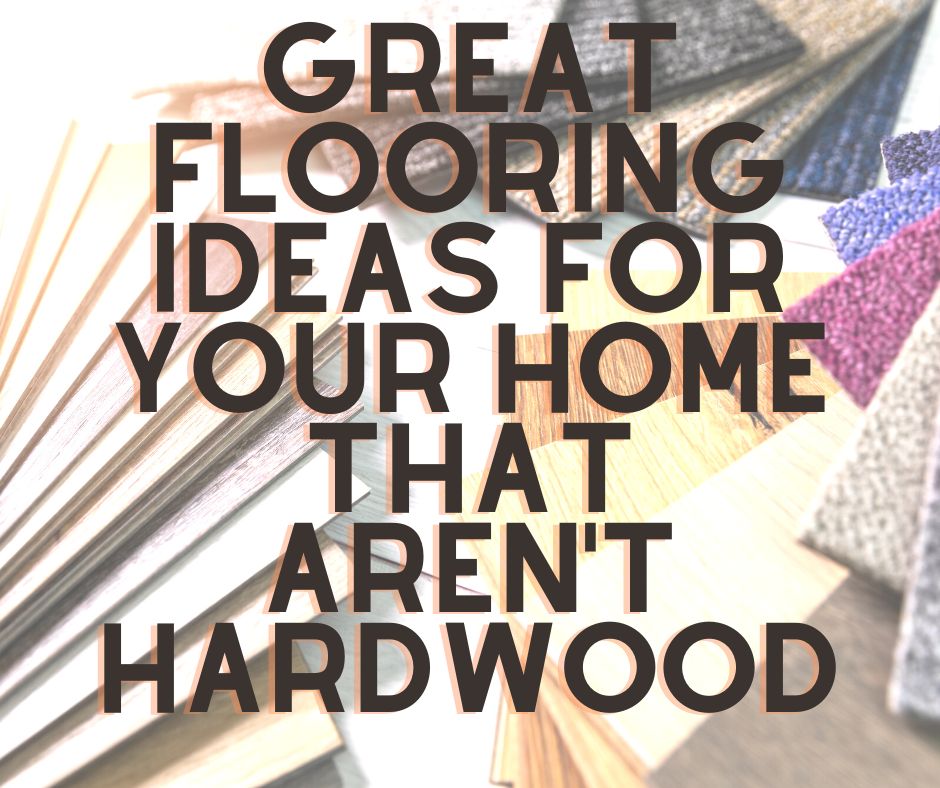 Choosing new flooring for your home is no small feat. This is one of the largest finishes within your home. Not only is it one of the largest but it needs to be one of the sturdiest as it is underfoot and takes a good beating. You want it to last for years as well as look great and provide comfort and style within your home for many years to come.
Tips for Picking New Flooring for Your House
Time and time again and if you watch any home makeover show out there you have probably heard that hardwood is the best type of flooring. But what if you are just not into hardwood? Or maybe you don't want to invest in the cost of hardwood? According to many design professionals, if you're hoping to find flooring that is reliable and sturdy but not hardwood you want to make sure you are finding something you will be able to live with and love for the long haul.
Replacing your flooring with any type of material even if it is on the more budget-friendly end is still a costly experience and as such you do not want to have to do it again in a couple of years. Make sure you are considering the longevity of the flooring product you are choosing and that it is something that you really will enjoy looking at for many years to come.
Luxury Vinyl
If you would like the look of natural hardwood but are not able to pay the costs, choosing a luxury vinyl plank is a very popular alternative option. There are some very high-quality vinyl flooring products out there that are even waterproof which gives it a much bigger bonus over its hardwood counterpart. Another plus of choosing luxury vinyl planks is that it comes in many different finishes. Some very high-end luxury vinyl flooring is hard to tell the difference from actual hardwood.
Ceramic Tiles
Tile is a great alternative to any type of flooring as it can also last a very long time. When a tile floor is installed properly and cared for with the right maintenance it can last anywhere from 75 to 100 years which is about the same as a hardwood floor for just a fraction of the cost. What is nice is there are some ceramic tiles that are made to look like wood flooring. When it comes to the options with ceramic tile floors it is almost endless with the color and pattern choices as well as the shape of the tile.
One thing to remember is that tile does come with grout lines and grout lines need to be maintained. Grout lines should be cleaned properly and will need deep cleaning as well as re-sealing periodically depending upon the use of the floor.
Cork Flooring
Cork has grown in popularity for floor coverings in the last few years. It is a good hard surface floor alternative made from the bark of trees that are harvested in a sustainable way to be more environmentally friendly. It can't be more costly than other hardwood alternatives but can create a very comfortable surface to walk across as well as a green flooring alternative option.
Cork flooring is easy to maintain but is also a soft material that does not have the same lifespan as ceramic tile.
No matter the flooring type you choose it is good to remember the purpose of the room it will be going into. You want the flooring in your room to make sense for the usage of the room. For example, you would not put a floor that has trouble with large amounts of water in a kitchen or a bathroom. You also don't want slippery surface flooring in areas like a stairway.
For more information on purchasing a home in Columbus and surrounding areas please contact us anytime.
More Helpful Homeowner Information: