Getting Your Living Room Furniture Layout Just Right
Posted by Donald Payne on Wednesday, March 17, 2021 at 12:57 PM
By Donald Payne / March 17, 2021
Comment
The living room is the center of activity in your home, it is the place to curl up with a book on a rainy day. The room to cozy up on the sofa and watch a good movie at the end of a long week. The place where you ask guests to come in and take a seat.
It is not uncommon for many homeowners to fuss with the furniture layout in the living room several times. Rearranging, and pushing and pulling heavy items to find just the right spot for every piece of furniture to go and create the perfect room that meets all of your needs.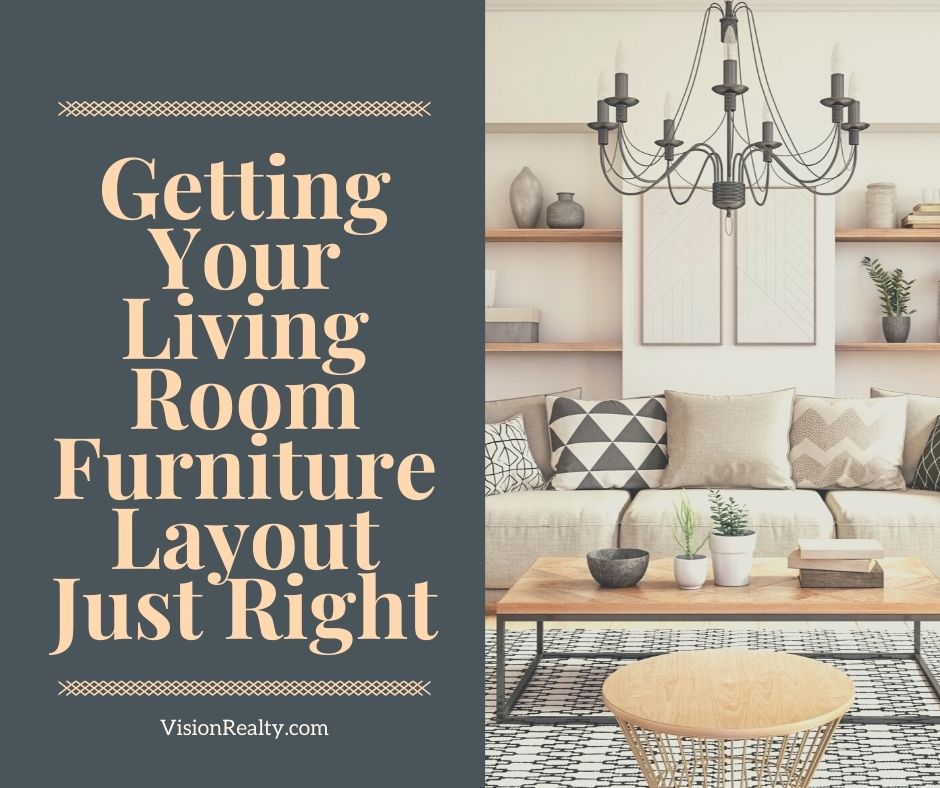 Here are some tips to help you find that perfect living room furniture arrangement.
Find the Focal Point
Before deciding where your big heavy furniture needs to be in the room, discover the main focal point. This is where your eye is naturally drawn upon entering the room. Seating should most often be arranged with a direct view to the focal point of the room.
Sometimes the focal point in a room is easy to find, be it a window or a fireplace and other times the focal point will need to be created in the form of a media unit or coffee table. You may have heard some designers say that the tv should not be what furniture is centered on, but if this is the main use for the space, then it most certainly should. Think of the primary attribute of the room and the primary use of the room.
Measure the Room Before Bringing in the Furniture
To ensure that your items will fit in the room it is a good idea to measure the room before bringing anything into it. Take measurements of the furniture you plan to put in the room as well. Remember to allow room for walking pathways as well. The easiest way to do this is with a drawing of the room and mapping out where you would like to place the furniture to see if it will work. You can also put blue tape down on the floor in the empty room to mark out how the furniture may fit in the space. This will help you to see if your furniture is too big or too small for your room.
Think Outside the Box of the Sofa Sitting Along the Wall
So many people instinctively push their sofa up against the back wall of the room. Even placing your sofa just a few inches from the wall in a small space will help a room to feel more spacious.
Allow for Conversation Areas
Even if the main purpose of the room is to enjoy the television, you still want to allow for conversations to be easily had if you decide to invite friends over. Two sofas facing each other in parallel lines is a common and easy way to accomplish this making conversation a main activity in the room. You can also angle chairs toward each other to keep the main layout of furniture open. For spaces where you may want to watch tv but also use the room for a conversation area, try placing an easily moveable chair in the corner that can be quickly pulled to the couch when guests come over.
Create Separate Spaces
If you have a larger room and you need to use it as a multipurpose area you can visually set up separate spaces to be used for separate purposes. For example you can place some furniture around the tv and set up two chairs off to the side for a conversation area. You can place a desk next to a window to be used as a workspace. The back of the sofa makes a great natural barrier to divide separate areas in a room as do using different rugs that still coordinate with each other to define each space.
Related: How to Know You've Got a Good Offer
Some Simple Furniture Arrangements to Consider
No single layout is perfect for every room as they are all differently shaped and purposed in each home. Here are some simple layouts to start with and try in your home to help you find the perfect fit for your home and lifestyle.
Parallel Conversation Layout: this was talked about above. Two separate sofas that face each other in parallel lines to create a space to have conversation and maybe enjoy refreshments with friends. This works really well with a focal point like a fireplace at one end. This works well in narrow rooms.
L-Shape for Entertainment: This is a useful layout to use a room for both conversation and watching television. A sectional, if the room is large enough to hold one is great for this with two chairs to fill in the opposite corner while still allowing for walking space and flow.
Separate Sections: this is a great way to set up furniture in a room that has nooks or angles. You can place a desk or a reading nook or use it as a space to display family memorabilia.
Kid-Friendly: This arrangement allows for the furniture to easily move and shift with play time needs. The main goal is to keep plenty of space open for toys and play.
Knowing a few arranging tricks and tips can help you to create a living space that functions well and you will love. It can also help you to stage your living room to showcase it in its best useful light to appeal to buyers when you want to sell.
For more information on buying or selling a home in Columbus and surrounding areas please contact me any time.