Easy Tips and Tricks to Get Your Home REALLY Clean
Posted by Donald Payne on Friday, June 21, 2019 at 9:36 AM
By Donald Payne / June 21, 2019
Comment
Easy Tips and Tricks to Get Your Home REALLY Clean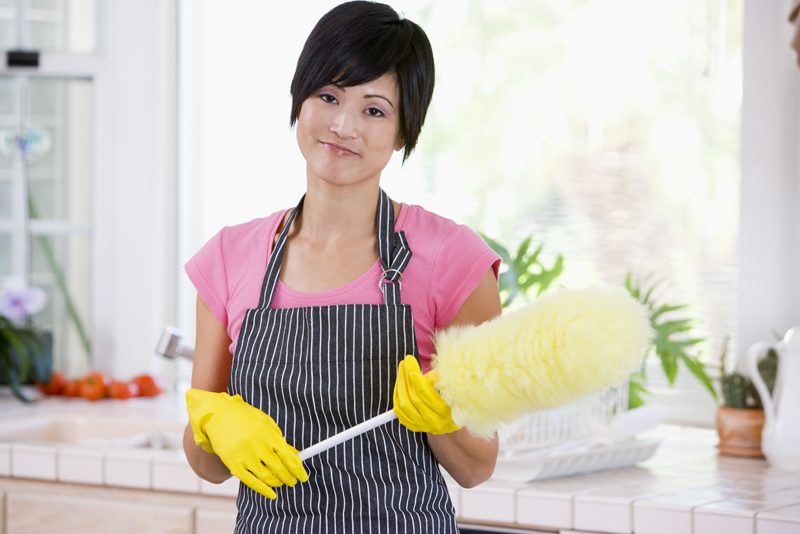 Spring is the time of year when most of us get that cleaning bug and go throughout our homes in search of eradicating every last speck of dirt. OR perhaps you are selling your home in Columbus and need to give it a good deep cleaning before listing? Here are some tips on how to make cleaning jobs around the home a little easier and how to clean areas with green cleaners we may have not even thought about.
Sanitize wood cutting boards by rubbing them with a fresh cut lemon, once the lemon juice has dried rinse the board with water.
Use uncooked rice to clean those narrow jars and bottles that you can't get your hand into. Put a ¼ cup of rice into any bottle you have a tough time cleaning along with a small amount of water, a couple of tablespoons should be enough, and a tiny squirt of dish soap. Shake or swish the rice mixture around the bottle with the cap on until the bottle is clean. Polish silverware with a thick baking soda paste.
You can also use baking soda paste to clean stainless steel sinks.
Descale a tea kettle by boiling vinegar and water and leaving overnight. Boil with just water to remove any lingering vinegar and you are ready to make some tea.
Remove stubborn stuck on stains from the stove top by making a paste out of baking soda and peroxide, let it sit on the stains for a few minutes and then scrub them away.
Bath
Use dental floss to clean the base of faucets or around the toilet handle where dirt and grime build up.
Don't throw out those old toothbrushes, use them for cleaning. Use them on hard to reach and tiny places such as shower door tracts, heater vents and fan covers, baseboards, shower drains, and more
Clean out that shower head by putting vinegar in a plastic bag large enough to submerge the whole showerhead like a gallon size Ziploc and tie it on to the skinny part of the fixture. Leave the bag over night and run the water to rinse.
Prevent cloth curtain liners from becoming pink with mildew by putting them in the wash first and adding a little salt.
Scrub off that nasty soap scum with the help of eggshells or a loofah.
Vinegar makes a great mirror cleaner.
Unclog drains with baking soda vinegar and hot water. Put a cup of baking soda as far down the drain as possible and follow with one cup of vinegar. Let the solution bubble and fizz for 5 to 10 minutes and pour a kettle of boiling water in the drain to flush it out.
Common Areas
Remove artwork from walls, wood floors and wood furniture with rubbing alcohol. Be sure to test this on an unseen area first but it should be safe for your finishes. cleaninghouse.jpg Instead of dry dusting which only moves dust from one place to another try dampening a cloth with a little water and castile soap to grab and trap the dust.
Use salt on carpet stains. If the stain is dry re-wet it with some water. Sprinkle salt on a wet stain and let sit for one to five days adding more salt if needed. When the salt is completely dry break it into smaller bits and vacuum it away.
Thank you to our guest sponsor All Kleen Carpets for their tips: For a deep down clean of carpet, upholstery, and tile make an appointment with All Kleen Carpet Cleaning. When it's time to list your home in Columbus, make sure you clean it right!
Want to find out what your home is worth right now? Let us know!