Don't Miss The 2023 Creekside Blues and Jazz Festival in Gahanna!
Posted by Donald Payne on Monday, May 22, 2023 at 2:14:34 PM
By Donald Payne / May 22, 2023
Comment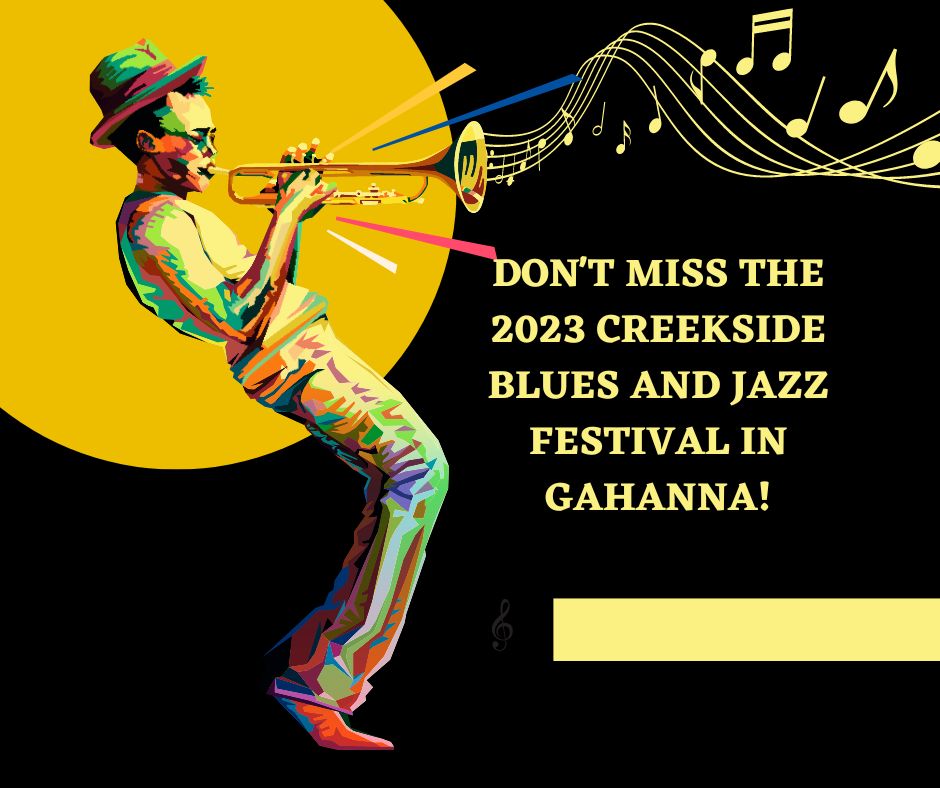 The popular Creekside Blues and Jazz Festival will be back this year June 16-18 2023 in the Creekside District of Gahanna just northeast of Columbus. Every year the festival has more to offer and grows in popularity. If you live in Columbus or Gahanna or have just moved to the greater Columbus area this is something worth checking out.
This festival has been an annual event in Gahanna's Creekside District (downtown core) for 24 years. The festival brings in world-famous jazz and blues performers from all over. The event features three stages, plenty of amazing food and refreshments, and a varied collection of retail and commercial vendors to shop.
Who's Performing at the Creekside Festival this Year?
As always there will be music going almost every minute of the festival at three different stage venues. There is plenty of great music to enjoy all three days of the event.
This year's performers include The Chris Brown Trio, Trutone, The Groove, Andy Woodson's Paw Paw Orchestra featuring Sydney McSweeney, The Wayfarers, The Joint Rockers, Chuchito Valdes, MojoFlo, Erin Coburn, The Hip Replacements, Tom Carrol's Strings & Things, Gravity's Pull, Deuce 'n a Quarter, James Gaiters; Soul Revival, Largemouth Brass Band, Patrick McLaughlin, The Tony Monaco Trio, Blue Spectrum, Zac Harmon, Urban Jazz Coalition featuring Marion Meadows, Honey, and Blue, Hoodoo Soul Band, Just Another Mojo, Columbus Youth Jazz Orchestra, Reelin' in the Years, The Lady Joya Band, Flippo plays the music of Steely Dan, Lil' Jimmy Reed with Ben Levin, and the Big Walnut Big Band.
Festival Hours and Tickets
The festival will run from 5 pm to 11 pm on Friday, June 16th, from 2 pm to 11 pm on Saturday, June 17th, and from 12 noon to 5 pm on Sunday, June 18. The festival is located just off the I-270 Columbus outer belt in downtown Gahanna at 117 Mill Street.
Tickets can be purchased from the festival website. A single-day ticket is $15 dollars per person and a three-day full-event admission ticket is $30.
Where to Park
This is a sizable festival and if you have not enjoyed it previously it is good to know how to get around and where to park. There is both paid parking very close to the venue in a parking garage on Mill Street and North Street and free event parking is available. There will be a free shuttle service for anyone using the free parking. Free parking will be located at 700 Morrison Road in the Mount Carmel and AEP Ohio lot. Paid parking will be $5 per car and on a cash-only basis.
Where to Find More Information about the Creekside Blues and Jazz Festival
The festival has a website dedicated to all the details about the festival. You can find various links to certain specific information pages throughout this article, or you can visit the website homepage and look through the menu. There is more detail about food, vendors, frequently asked questions, directions coming from the north and south, tickets, and more on the site.
For more information on living in Columbus and Gahanna please contact us any time, We are highly knowledgeable in all great Columbus area real estate and make it our mission to find our clients homes they truly love.