Cleaning Your Home for Sale When You Have Pets
Posted by Donald Payne on Monday, January 27, 2020 at 9:26 AM
By Donald Payne / January 27, 2020
Comment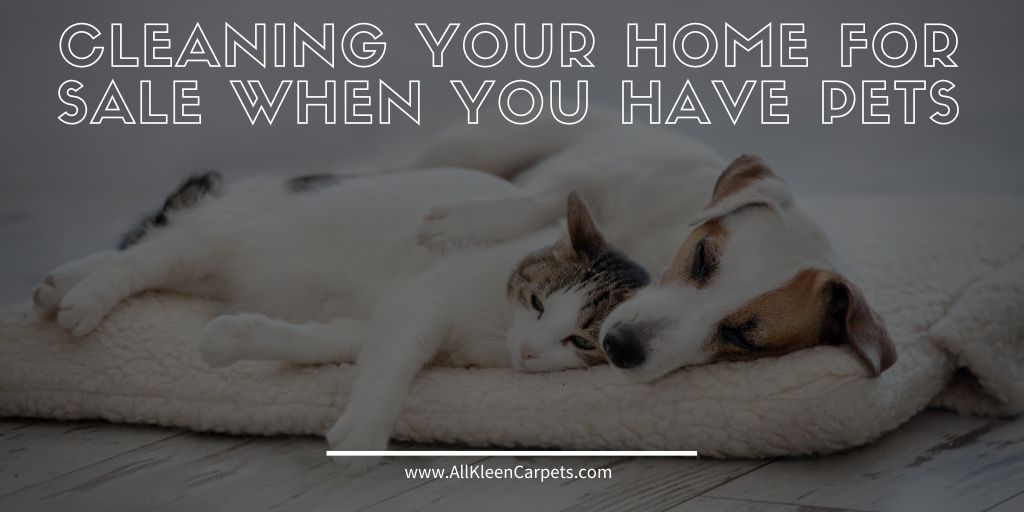 Trying to sell a home and keep it perfectly clean can be very difficult, even more, difficult when you have pets in the home. Though we love our furry family members, they can contribute to the mess in our homes as much, or sometimes more, as ourselves or our children. Sometimes we may not even be aware of how evident our pets are in our own homes until someone comes to check it out
Seeing any evidence big or small of a furry creature in the home can be a turn off to many potential buyers. Seeing scratched floors or smelling musty odors can have a buyer reconsidering whether they would like to purchase the home and maybe even wondering if there is more hidden damage or how well the home has been cared for and what needs to be fixed.
With the right cleaning routine, you can show your pet-friendly home to any buyer and they will never know that a pet even lives there. Follow these simple tips to stage your home for any buyer when you have a pet.
Deep Clean and Eliminate Odors
The easiest way to ensure that buyers are not greeted with the scent of your pet as they walk into the door is by deep steam cleaning or hot water extraction cleaning. The best way to do this is to hire professional cleaning help. You will be surprised at how pet odors can hide in places like carpet, upholstery, and even window coverings. The best plan of attack to remove these odors is to clean to the deepest level with professional equipment.
Clean and Tidy Daily
Now that your home is deeply clean to the furthest level, it is time to keep up with the cleaning daily. Make sure to go through your home every night or every morning depending upon when you are most active and do a quick and thorough clean of your home. This should include things like dusting from top to bottom to get all of those hairballs, vacuuming, sweeping, and anything you can do to continue with deodorizing.
Scoop any Poo Regularly
You will want to be very strict and on top of your poo removal schedule as this is one of the biggest turn-offs. Make sure that you are on top of picking up poo, or cleaning the litter box as soon as your pet relieves themselves. If this is not possible try to make a schedule to pick up poo at least once, and even twice if you can, a day. Make sure that all droppings are deposited into an outdoor waste bin as not to cause further issues in the home of odors and mess. If your pet uses the bathroom in your yard you will want to rinse out the area of the yard in which they go to the bathroom to keep your lawn looking its best.
Keep Up on Doggy Baths
The best way to keep dog odor at bay is to nip it in the bud right at the source. Make sure to bath your pooch at least once a week so they are smelling fresh 24/7.
Take Your Pet with You During Showings
You have probably heard that buyers should view the home when you are not in it, it is also a great idea for your pets to not be there as well. You want to give buyers the freedom to be able to look at every area of the house without concern or uncomfortable encounters with an animal they do not know.
Ask for Honest Opinions
Ask for the help of your trusty real estate agent or a very close friend to walk through your home and assess the signs of a pet living in the home and areas that would be concerning to them if they were shopping for a home. Have them point out any areas at all that they've noticed with minor damage, funky odors, or maybe even stains. You want to know what other people are noticing when they walk through your home so that a buyer doesn't.
Touch Up Any Pet Damage
Sometimes despite our best efforts to keep them entertained or to train them, a pet will cause a little bit of damage to our homes. This can be something as minor as a few scratches on a windowsill when they look out the window to see who is coming home or some chewing marks on a cupboard that contains dog treats in the kitchen. Make sure to walk around your home on all fours and pretend like you are your pet to see where there may be anything that needs to be repaired and make the necessary repairs before showing your home.
More: How to Remove Pet Hair From Upholstered Furniture
Tidy Up Pet Items
You wouldn't leave your dirty socks on the floor when you know a buyer is coming to look at your home. The same strategy should go for your pet's belongings as well, make sure to stash away any pet items such as food bowls, toys, and pet beds just before buyers come over.
More: Carpet Preservation Tips for Dog Owners
Set Scheduled Days for Showings
Make things easier on yourself and schedule specific days to hold showings for buyers to come and look at your home. When you have pets it can cause more of a scrambling situation to get your home perfectly in shape right before a buyer comes for a showing. Set certain days in which you will allow for agents to bring their buyers over to your home. For example, you could relay through your realtor that the home will be available to look at on Tuesdays, Fridays, and Saturdays from 3 to 9 PM. Open houses are also a great way to help with the scheduling dilemma.
More: