Buy Real Estate Investments with an IRA, Build Your Wealth!
Posted by Donald Payne on Thursday, December 9, 2021 at 10:41 AM
By Donald Payne / December 9, 2021
Comment
Real estate investment has been known as a stable long-term means of investment that can also help you to diversify your wealth portfolio if it may otherwise be heavily invested in stocks and bonds. Investing in real estate does not have to mean taking out a mortgage, this very lucrative investment could be paid for from a source that not many people think about, their IRA account. When it comes to using a retirement fund to invest in real estate there are a few different strategies that will allow you to do so using an IRA. Some of these options can range from owning property outright to purchasing shares in a company that already owns real estate.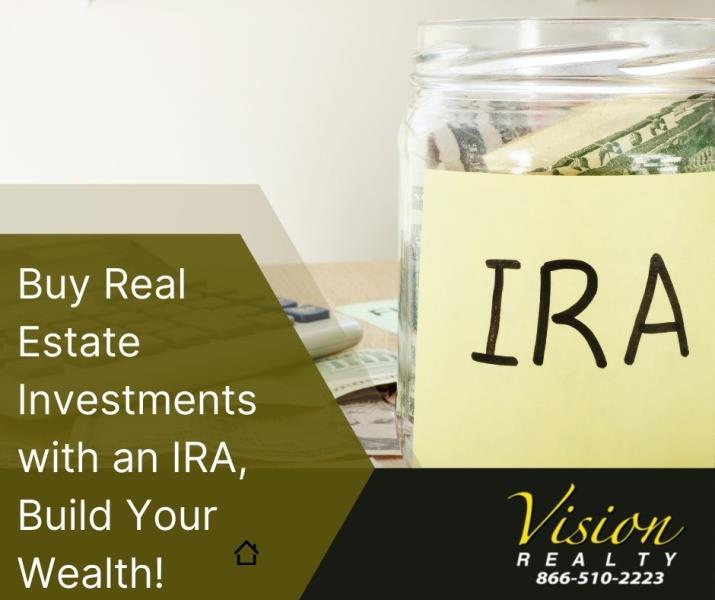 Here are some options for using your IRA on a real estate investment to expand your wealth portfolio.
Open a self-directed IRA for real estate investment
Retirement funds can be used to purchase a rental property and other real estates, but it will need to be done so through a self-directed IRA. This type of account offers more flexibility when it comes to investing in assets. A self-directed IRA allows you to invest in anything you are interested in. You could invest in other assets such as gold, oil, or even cryptocurrency. The self-directed IRA has the same tax benefits as a regular IRA, but with this type of IRA you will need a special custodian to set one up. Once the IRA is in place money from the account can be used to purchase real estate investment property, but there are some cautions that the IRS puts into place about who can rent the property and who can be paid for services related to it. As an example: you cannot buy a property and rent it to yourself. Another avenue you can use for real estate investment with a self-directed IRA is to go through a real estate syndication. This is a group of investors who pull money together to purchase large properties. With real estate syndicates, there's no need for worrying about having tenants in a rental property or being able to maintain a property. It is all done by someone else. All you have to do is decide where you want your money to be invested. There is a drawback to real estate investment syndicates, in that they usually limit themselves to accredited investors. To be considered as an accredited investor someone needs to have earned at least an annual income of $200,000 per individual or $300,000 per couple in the past two years. Anyone with a net worth of over $1 million can be considered an accredited investor automatically.
Invest in REIT's
Through the use of a self-directed IRA, you can buy in on specific properties within your retirement account, but this is not a strategy that is best for everyone. It can become very complicated. For some, there is an easier way to invest in real estate with an IRA and it is to purchase shares in REITs through the stock market. REIT stands for real estate investment trusts. These are companies that own or finance real estate. There was a law in 1960 put into action by President Eisenhower that opened the door for the creation of these types of companies. These companies have been developed in response to concerns that only large institutions or extremely wealthy people can invest in commercial buildings. These REIT companies were created as a way and means to let smaller investors have a shot at the same properties. Today you can find these companies investing in all types of commercial real estate, not just office and industrial buildings. Some of these investments include data centers, cell towers, and self-storage. One of the perks of investing in real estate through this avenue with an IRA is that the dividends stay in your retirement fund and grow tax-deferred or tax-free. The average dividend for this type of real estate investing can be an average of 3.5%.
Use an online platform
Today with the widespread use of technology for pretty much everything there are a number of online platforms and apps that can make it possible to invest in real estate in several innovative ways. An example of an online platform is the company Plotify. This company specializes in single-family rental properties and identifies rental properties with money-making potential then purchases them and rents them as well as sells them to investors. With this particular company, an LLC is created for every property purchase and an investor comes in and purchases the LLC. After the sale to the investor, Plotify will continue to maintain and manage the property so the owner can have a hands-off approach to investment. The company is able to obtain management services at a lower rate than an individual may be able to on their own purchasing a property by themselves.
For more information on purchasing real estate in Columbus Ohio, or surrounding areas please contact us anytime.
More on Real Estate Investing: