Back to School Home Organizing Tips for Your Columbus Home
Posted by Donald Payne on Wednesday, August 9, 2023 at 9:14:32 PM
By Donald Payne / August 9, 2023
Comment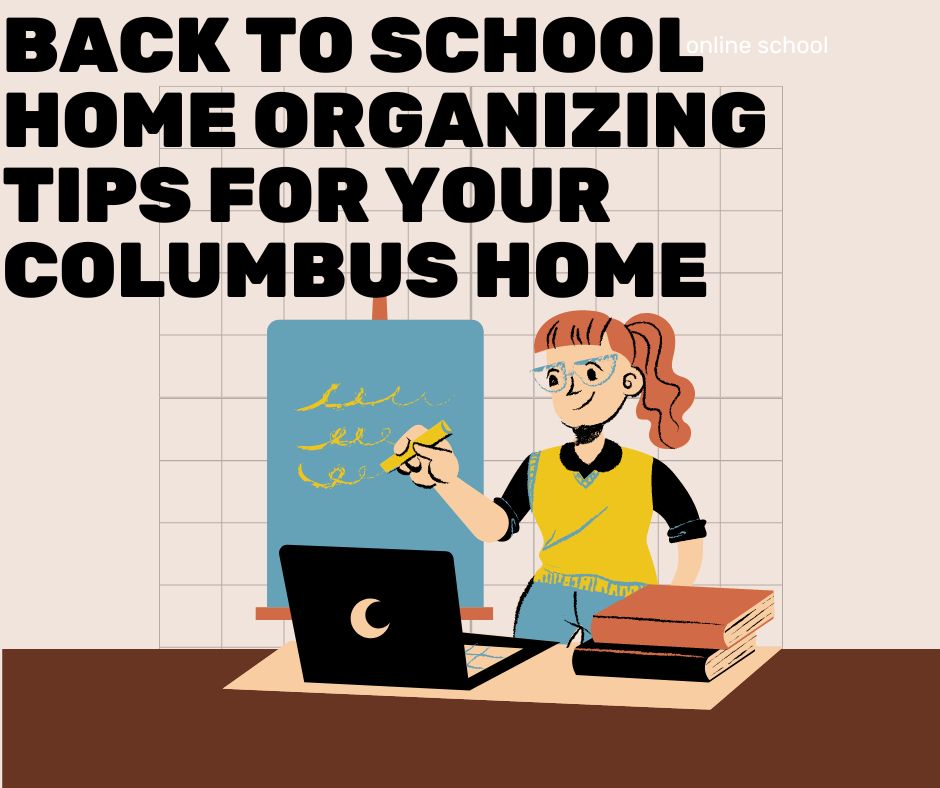 As summer days become fewer back to school is right around the corner in Columbus. This means a new daily routine for young families in Columbus. From waking up earlier and immediately setting sights on getting everyone out the door to returning back home after busy days full of learning and extracurricular activities our life can quickly become hectic and 10 times busier than it was.
With some organization and preparedness to help days run more smoothly back to school doesn't have to be a stressful time of trying to play catch-up to a new routine. Here are some ways you can organize your Columbus home to help make returning to school less frenzied.
Find a routine that works
Having a regimented schedule for your school days can help keep everyone on track and on the same page. When everyone in the family knows what to expect from how the day will work it can help to keep things from getting out of control and taking longer than they need to. It could be something as simple as talking out an order of tasks and when they will get accomplished and making sure everything gets done. For example, setting out tomorrow's clothes the night before so there is no stress of picking out the perfect outfit when you only have 10 minutes to get dressed.
Make a checklist
Once you have a routine down, consider making a visible checklist for each of your children and even yourself. Having a checklist can remind everybody of their personal responsibilities and the order of tasks. Not only can it remind everyone of what they need to be doing and what is yet to be done and how long they have to do it, but it can also help everyone feel a sense of accomplishment by crossing off accomplished tasks.
There's something so satisfying about accomplishing something and visually crossing it off of a list. It can help you to feel motivated and ready to attack the rest of the day when you have crossed things off your list and in a timely manner. Who doesn't want to start their day off on a good and happy note?
Set up a workstation
At some point, each of your kids will probably have some homework or a project to work on at home. Setting up a workstation so they can successfully focus on their work helps to set up for success and maybe even in them a better grade.
Setting up a designated space for homework with needed supplies can help your kid to concentrate and get into a routine of getting their work accomplished. Make sure to get kids in the habit of cleaning up the area when their work is finished. If you have more than one child you can even give them each their own basket or bin with their needed school supplies labeled with their name.
Clean out closets and Declutter rooms
Going back to school is a great time to do an overhaul on your child's closet as you purchase new clothes for the upcoming school year. It can also be a good time to get rid of anything in their room that they don't need. Cluttered spaces make it hard to concentrate and can have us feeling overwhelmed and stressed by seeing tasks we need to accomplish that we can't get to.
Go ahead and accomplish those tasks now and feel much lighter and ready to take on the new year. It is also exciting to have plenty of space for new items like clothing. Now is a great time to set up that clothing organization system you've always wanted to put in your kid's closet. You could even set aside some space for them to lay out their clothes for the next morning or the entire week to help them quickly and successfully get dressed in the morning.
Put together a drop zone
After a long day of activities, your family will naturally want to drop their items right inside the door when they get home. While this is fine it can create a pile of unwanted clutter near the door and even a tripping hazard. Instead set up an area where your family can drop their things when they arrive home in an organized manner. This could be a coat rack and a bench with baskets underneath for them to hang up jackets in bags as well as put shoes away.
Consider a command center
Now that the activities have picked up tenfold it can be hard to keep track of everything you need to do. You can keep track of all this inside of your smartphone but it is also good to have a place where everybody in the family can see what is going on easily every day. A spot in the kitchen is a great area to place a Family calendar that communicates what everyone is doing during the month. Not only will it help everyone to clearly see what is going on at all times it can help you to remember as you write out the calendar what is coming up and help you be two steps ahead of the scheduling game instead of playing catch-up.
Put a reward system in place
Having new organization strategies and a new routine can feel hard to accomplish especially for younger children. Putting a reward system in place to motivate kids and get them excited about doing new tasks is a great way to help them feel less intimidated and more enthusiastic about a new routine. You could even set a reward system up for yourself as well why not get in on the fun?
The more you plan ahead for busy and jampacked schedules the more smoothly they can run. Being prepared for busy times is a great way to help take an element of stress out of being on the go most of the day. And when everyone is on the same page of how things are working it helps even more.
If you are interested in Columbus area real estate please contact me. I am here to help you find a home in Columbus you will love with all of the attributes you are looking for to help you live a smoother daily life with your busy schedule.