Are You Still Believe These Home Improvement Myths?
Posted by Donald Payne on Monday, July 29, 2019 at 3:23 PM
By Donald Payne / July 29, 2019
Comment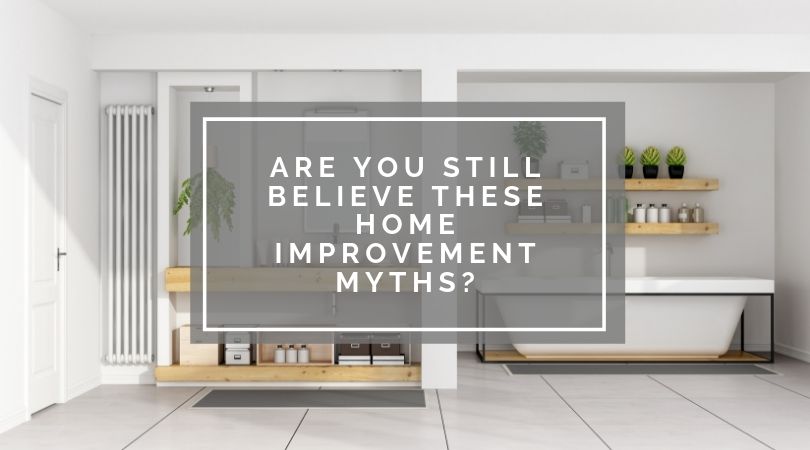 Did you know that home improvement spending is up 17% from 2018? The average American spends between 9000 and $10,000 on a home improvement every year. Of course, some are major remodels of up to a hundred thousand dollars all others are simply a few cosmetic changes less than $1000. But there are a lot of home improvement myths to debunk out there. Are you guilty of believing some of these myths?
#1. Older homes cost more to maintain.
Just like a car, it can be easy to assume that the older the model the more maintenance, but that's not always the case. Just because a house is old doesn't mean it's going to be the stereotypical money pit. Surprisingly, the opposite is actually true with homeowners spending an average of $3.70 less in emergency spending per year for every year their home was built. For instance, if you are talking about a 100-year-old house you will spend about $370 less per year on emergency spending than the owner of a new house. But, this might not just to be the house itself. Those that choose older homes may just have a better mentality of fixing items rather than buying new. Also, many of the owners of older homes of already addressed major issues. So, it's important to know that older homes can perform like new if they are properly maintained.
#2. The kitchen is the most remodeled room.
Now, when we're talking about home-improvement values, the kitchen is usually the room to bring the most value or rate of return but it's not the most frequently remodeled room. Over 58% of people redo bathrooms where is only 32% tackle the kitchen. This is understandable as the kitchen remodel is the most expensive room in the entire house when were talking about counters, cabinets, and appliances. The important thing to note is that if you are planning on selling your home, simply remodeling the bathrooms could attract more buyers and increase your final sales price over the kitchen.
More: What you should know about selling a home yourself
#3. Most homeowners are not prepared for major emergencies.
While there is a lot of research on this, surprisingly 80% of respondents say they have at least $1000 available for an emergency repair. Of course, all Americans are probably not saving enough so homeownership is a great way to build your wealth but there is the responsibility and planning that comes along with it, hence the importance of having an emergency fund. The goal is to save at least 3 to 6 months worth of savings.
#4. Millennials are only looking at appearance.
Yes, millennials love their Instagram and Snapchat feeds but they're not just looking at appearance. Studies have shown that millennial's were twice as likely as generation X to list adding value to their home as a key motivator for home improvement projects. This is 3 to 4 times as likely relative to baby boomers and the silent generation. Millennial's and anyone looking to buy a home should look at value-driven features such as new windows, updated water heaters, and appliances.
Read More: How to sell your home in a market of millennial buyers
Home improvement is important but it may not be as important to some as it is to others. Consider your home if you are planning on selling and consider your target demographic. Give us a call and let's decide how we can best market the home for the most profit possible. People are looking in all areas across Columbus and the nation so finding a way to appeal to your particular buyer is crucial.