7 Steps to Selling Your Home In All Market Conditions
Posted by Donald Payne on Monday, August 8, 2022 at 10:34 AM
By Donald Payne / August 8, 2022
Comment
Selling a house can be quite a stressful task. It is very time-consuming as there are many things to put in place before the process is completed. Apart from some places like Louisiana which has very strict home selling policies, the home process is pretty much the same in the United States. This means that this article's tips to selling your home should be relevant to you.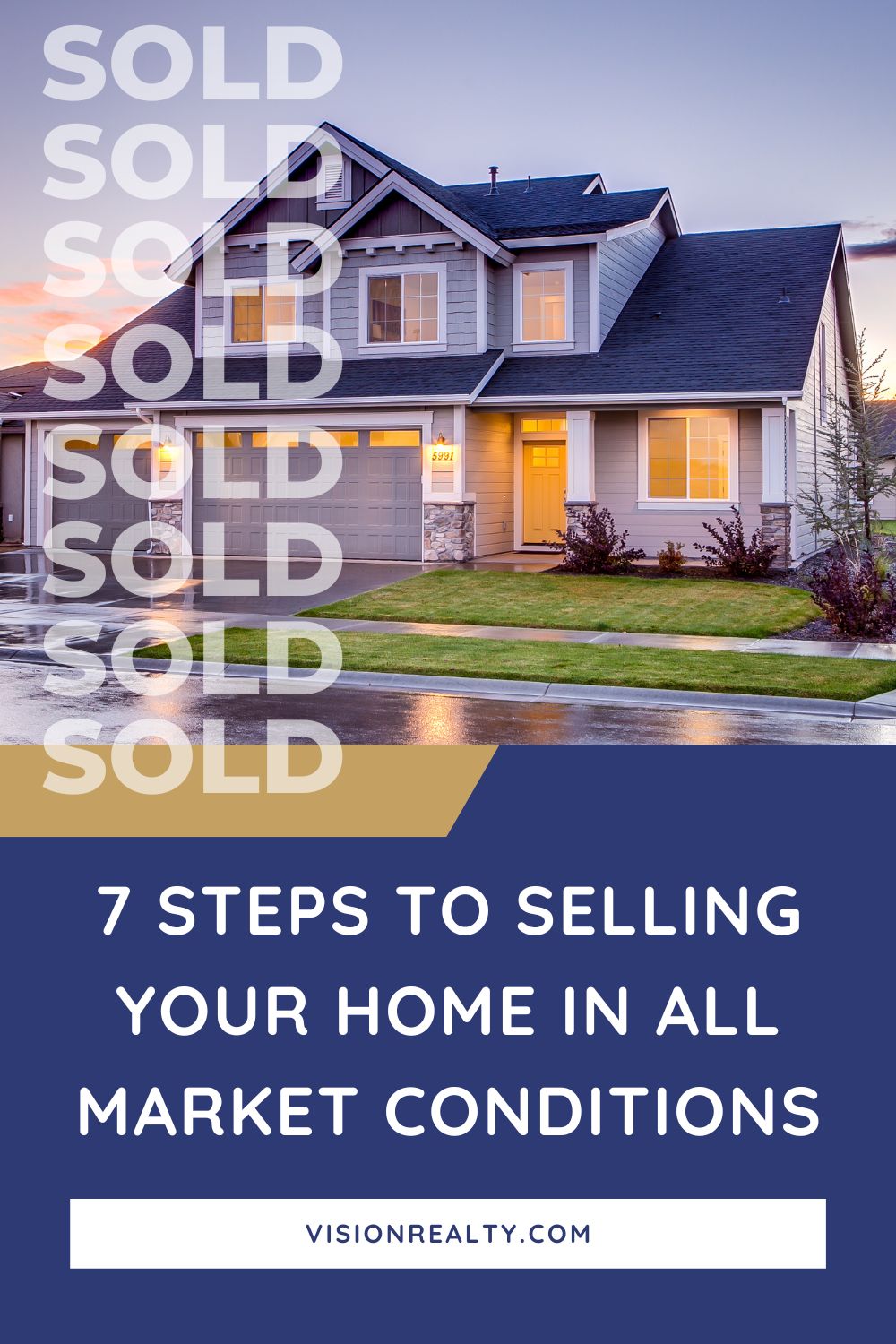 1- Getting a real estate agent
This is an important step to take if you want to sell your house. To find one, you can consult with trustworthy real estate agencies which would, in turn, connect you with one of their real estate agents who can help you in many ways. An important thing to remember that many people do not know is that you do not have to use the first agent that is presented to you. You can interview agents for the job of selling your home. This is common practice and real estate agents will typically be expecting you to be interviewing multiple agents.
Unlike you, real estate agents are privy to information and are experienced enough to know the steps to take to ensure that your house is pushed off the market as soon as possible. They are well trained also, this means that you can trust that they would offer you professional advice and guidance that you might need throughout the entire sales process. The major functions of a real estate agent, in this case, are to:
i. Help you determine the market value of your house
ii. Help you market your house through the use of online and off-line advertisements as well as through their network of buyers. this increases the chances of people seeing your house.
iii. Organize open house events, negotiate prices and act as an intermediary between you and the potential buyer or buyers real estate agent.
It is very important to find a trustworthy real estate agent that understands your needs, one that you trust and are comfortable enough to work with. This way, you can be sure that you're in good hands. You would not want an agent that specializes in condo sales to sell your single-family home in the suburbs. Just as you would not want a luxury real estate agent to handle selling a mobile home. Find an agent that works primarily with the type of property you're trying to sell.
2- Find out how much your property is worth on the market
This is another important aspect; you need to get a real estate agent appraisal (or commonly known as a comparative market analysis or CMA) as you don't want to the risk of overpricing or underpricing your property. If you overprice your property you may not get people looking at the home or making an offer. If you underprice it, you would be running at a loss.
The key is to set a reasonable asking price for your property from the get-go. To do this, you would need to consult with your real estate agent because of his/her expertise, and together, take into account the present condition your home is in, the market value of other houses in your neighborhood and the general state of the market. All these things tend to grossly influence the amount you would be able to sell your property for.
3- Sign a well-detailed listing agreement with your real estate agent.
Once you have agreed on the selling price for your property, the next step would be to sign a binding contract between you and your agent/broker. Here are some of the highlights of a listing agreement: the asking price it would put on the market for, the agent's commission rate, things that will convey with the sale (furniture, appliances, etc.), and how long the listing agreement is valid with the agent. It is important to go through this document thoroughly and make sure you know what you are getting into before signing.
4- Prepare your house for Sale
As human beings are majorly attracted to what they can see, it is important to make the house as aesthetically pleasing as possible. Worn out pieces of furniture or pieces of furniture that are not in use should be kept aside during this process. The house also must be properly cleaned. If the services of a professional would be needed, it would be advisable to enlist their help. Preparing your house for sale can also include making repairs to the necessary parts of a house. Places like the kitchen and bathroom usually attract a lot of attention during this process so if there are any repairs to be carried out; it would be advisable to start there. Don't forget the curb appeal which is the first thing buyers will see when pulling up to your property.
5- Home Staging
Staging is the act of preparing a private residence for sale in the real estate market. This is centered on the fact that people would majorly buy things that are beautiful and things they find perfect enough to suit their needs. During the staging process, the property is improved and transformed in a bid to entice buyers to purchase the property. This is done by using paints, accessories, lights, new pieces of furniture (sometimes), and plants just to give the potential buyer a beautiful first impression of the space and as we all know, the first impression counts a lot. You can either choose to do the home staging by yourself or employ the services of a professional- while this would incur extra charges, it may be worth it in the end as it has the potential to increase the value of your property in the real estate market or help it sell faster.
6- Handling and accepting offers
At this point, the potential buyer has visually inspected the property, is okay with it and willing to make an offer. Your real estate agent can help you confirm if the buyer is pre-approved and qualified to buy your home. If any of both parties are not satisfied with the offer made, they can make a counteroffer. When the offer has been accepted it becomes a legal contract. All necessary information including the final selling price of the property, about of earnest money down, closing date, type of financing being used, contingencies, and deadlines for things such as inspections is included and both parties would be required to sign.
7- Closing
This is the final part, this stage involves signing off all important documents, handing over the keys to your home, paying your agent his/her commission, getting the payment for your property and fixing some things in your home if you previously agreed to do so in the contract and just like that, your house has been sold. Generally, "Closing" refers to that meeting where ownership of your home is legally and officially transferred to the buyer of the property. This is either done through a mutually agreed title company or in some states both parties have their own real estate attorneys. It is important to ensure that your agent will be present during the closing to guide you through the process and make sure everything goes as planned. By being present during the closing, he or she can mediate any last-minute issues that may arise.
In conclusion
These steps should be enough to put you through the process of selling your home but you can never be too informed so if in the case that you might require additional information concerning this process, you can always carry out extra research. When you follow these steps, it should not matter if the real estate market is in a slow season, you can rest assured that you would be able to sell your home as quickly as possible.