5 Reasons Not to Paint a Brick House
Posted by Donald Payne on Tuesday, February 25, 2020 at 8:08 AM
By Donald Payne / February 25, 2020
Comment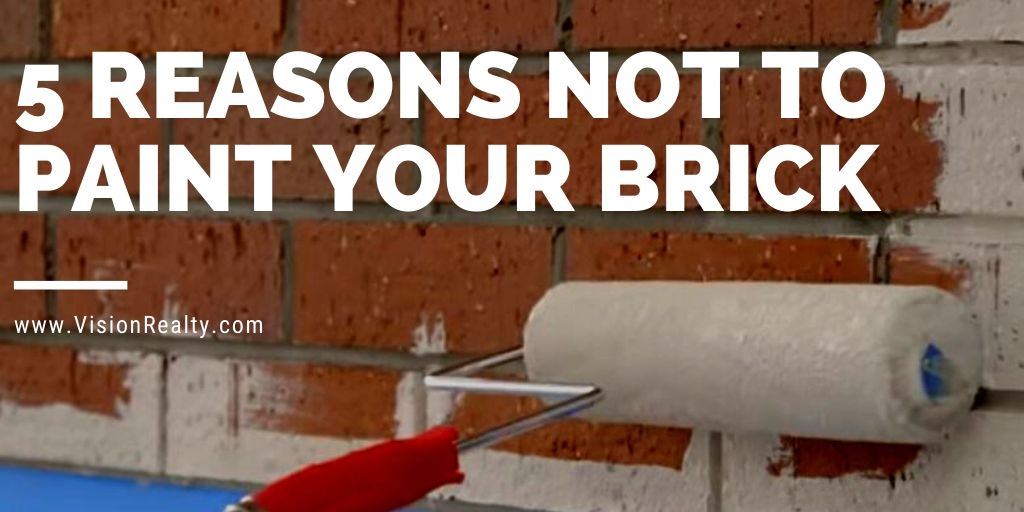 If you have a brick home or brick accents on your home you may have been tempted to paint it because you have seen painted brick on other homes or are just feeling like your home could use a makeover. In most cases painting your brick is not a good idea and here's why:
It may not seem like it, because bricks look like large heavy rocks, but brick breaths and it needs to breathe. There are tiny holes in brick that adjust to the environment and let moisture out in times of rain, sleet, hail, and snow.
Putting a coat of paint over brick is very similar to putting a plastic bag over your head. It closes up any holes or "airways" and the breathing stops. Trapped moisture is a bad thing in any home. Brick is actually the ultimate in home siding retaining heat or cold and adjusting to let moisture out.
It May Result in Structural Damage
If there is moisture trapped inside the brick due to paint holding it in when that moisture freezes and expands it can degrade the brick. As the brick erodes the structure of your home becomes compromised.
It will be Ugly when it Degrades
When the bricks begin to break down so will the paint. The paint will peel and flake and be like a very ugly neon sign pointing out that your home is in need of serious help. Peeling and flaking paint is a sign that the brick erosion has been going on for a long time and something needs to be done quickly.
The very reason you put the paint on , (to make the home look prettier) will give you the very opposite result.
Historic Bricks Won't Hold Their Value
Some brick homes have historic handmade bricks. These bricks are stronger and hold up longer than today's machine-made varieties. The surface of historic handmade bricks is harder. If you have decorative brick features on your home like dog-toothing it is very likely you have handmade historic bricks on your home. Painting them will not only cause the issues mentioned above but will lose some of the historic integrity.
It is Very Hard to Reverse
It is a tough process requiring a lot of time and labor to clean paint off of brick. If you were to sandblast or power wash it would further degrade the brick and your home's structure. The safest way to remove paint from brick is with chemical stripping. So if you decide you don't want the paint anymore, changing it is a pain.
Some Cases Where Painted Brick is an Exception
The Brick Has Already Been Professionally Painted
Painted brick requires frequent re-painting, so at some point, it will need to be re-painted or stripped. Re-painting is going to be the cheaper and easier fix. When re-painting, you will want to hire a professional that uses a mineral-based or silicate paint designed to breathe.
The Brick is Severely Damaged
If the grout between the brick is crumbly and almost sand-like, painting might be the cheapest and less painstaking way to fix it. You could dig the mortar out and replace it, but doing this yourself will probably end in a mess of cement all over the brick facing and hiring a pro to do it is very expensive.
You Have Very Old Brick that was Meant to be Painted
Very few homes have it, and they are all historic homes because this type of brick was made before 1870. There was a specific type of historic handmade bricks that were meant to be painted. You can tell if your home is one of the few if it was built before 1870, there is what looks to be traces of paint or whitewash on the brick face, and the home lacks any ornamental decoration.
This type of brick does require its own special blend of paint, not the latex paint of today. It needs to be painted with milk paint or lime-based whitewash.
If you have brick on the inside of your home that is sheltered from harsh outdoor elements, there is not threat of moisture and humidity to structurally ruin things. Do whatever you wish with that brick fireplace surround!
For more great home tips and information please feel free to browse the website. For help finding or selling a home in Columbus contact us anytime.