20 Simple Ways to Upgrade Your Home for Less Than $100
Posted by Donald Payne on Monday, August 26, 2019 at 10:31 AM
By Donald Payne / August 26, 2019
Comment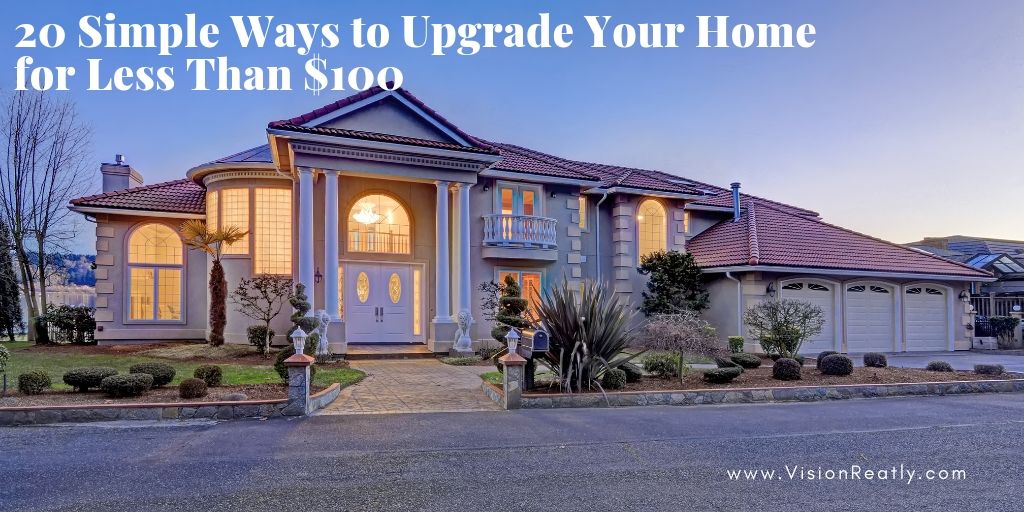 Putting in thousands of dollars when it comes to upgrading your home may be out of your budget but there are some simple things you can do to upgrade, update, and renovate your home on the cheap. Here are 20 simple things you can do to upgrade your home for less than $100.
Paint the front door. This inexpensive project does take a little bit of time but is usually no more than a $20 can of paint. You can update the hardware, kickplate, and address numbers as well if you have the budget.
Add solar lighting. At a little bit of light to your sidewalk or garden path with some solar lights for under $50.
Paint the garage door. A different color garage door that complements the color of your house can really make an eye-popping statement.
Add mulch. Mulch to your front garden beds and around trees can really add a finished look to your curb appeal.
Update a lighting fixture or two. The lighting fixture hanging over your front door or your dining room table can be updated for around $100 unless you want to go a little overboard in which case lighting fixtures can brands upwards of $500 for nice lighting, but you don't have to go big to make a statement.
Add a fire pit. Fire pits have really taken off in the last two years even though they are not a new concept. Adding a gathering spot for the backyard is a perfect way to add ambience and create a setting that many buyers will laugh.
Seal, stain, or paint a wood deck. Decks don't last forever but painting or staining them can seal in the beauty for years.
Paint a room or two. For around $30 a paint can, you can paint a couple of rooms in beautiful colors, accent pieces, or simply an accent wall with a brighter, jewel tone. Don't go to overboard with the color however, buyers want to be sure that they can see themselves in the home not just your style.
Update bathroom faucets and fixtures. New faucets, a new sink, or even a $125 small vanity top in quartz or granite can make a beautiful statement in the bathroom.
Dress up an old sofa. Bring new life to sofas and chairs with pillows in colors that pop.
Update cabinet hardware. Or add hardware if there has never been hardware on your kitchen cabinets and bathroom cabinets. New hardware can really make a statement and show care in the details.
Get the carpets professionally cleaned. Most professional cleaners nowadays will clean tile, hardwoods, carpets, rugs, tough stains, and even upholstery.
Update the backsplash. You can update the backsplash in your kitchen by doing a faux paint design which can minute a contemporary look of stone or glass tiles.
Swap out bathroom curtains and mats. Updating a shower curtain, mats, wastebaskets and towels can really beautify your bathroom and make it look fresh and exciting.
Paint exterior shutters and trim. A fresh coat of paint on your shutters or window trim can make the house look fresh and new again.
Install new door handles. Attractive new knobs or handles on interior doors and closets can make a beautiful statement.
Create a new headboard. You can craft a new headboard or refurbish the old one by wrapping it in fabric for less than $50.
Rearrange bookshelves. You can style the contents of your bookshelves with an artistic flair.
Add container plants. Containers with pops of color really add a lot to the curb appeal.
Deep clean. Professionally deep cleaning your home is one of the best ways to give it an upgraded look. It's like washing your car when it comes time to selling, you may realize you love it more than you thought.
Ready to list your home? Find out what your Columbus area home is worth today and call us to schedule your free listing consultation.